After an Instagram influencer dons a T-shirt with a gun motif, a backlash begins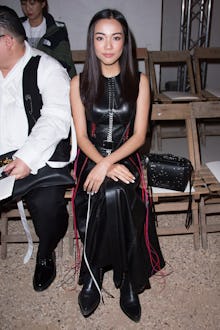 Let this be a prime example of fashion tone deafness.
Earlier this week, as the fallout from the shooting at Marjory Stoneman Douglas High School in Parkland, Florida, continued and its survivors carry on their fight for gun control, an Instagram influencer decided to debut a T-shirt that featured a sketch of a gun and a sassy little slogan: "Fuck what they say."
Yoyo Cao, who is the founder of the brand Exhibit Store and has more than 300,000 followers, debuted the T-shirt on her Instagram. While she was defended by some of her followers who claimed she wasn't alluding to Parkland, plenty others were quick to criticize her.
Cao's fellow Instagram influencer Tina Craig, who goes by @BagSnob on Instagram, was one of the first to call the design out.
"This is your design @yoyokulala?!" Craig wrote on her Instagram story. "I am beyond offended by this! My son hasn't slept in weeks because he fears a student will bring a gun to school."
Craig then posted a picture of one of the Parkland shooting's victims, Alyssa Alhadeff, who was just 14 years old.
Other people commented on Cao's image, which has since been taken down. One was blogger and designer Nicolette Mason, who wrote: "This is really, really tone deaf. Please pay attention to what's going on around the world. Fashion doesn't exist in a vacuum."
Lisa Rinna of Real Housewives of Beverly Hills fame also commented: "You must be confused when it comes to this it is not fuck what they say. I'm hoping you don't know what the fuck you're doing and it's a big fat mistake."
By Friday morning, Cao had not only deleted the Instagram post, and removed the shirt from her store's website, but apologized in the form of an Instagram story.
"Ignorance breeds ignorance," Cao wrote on Instagram stories. "An image on a T-shirt is not something to joke about. Promoting violence was never our intension."
Prior to this, Urban Outfitters had been slammed for a red-stained T-shirt in 2014 that alluded to the Kent State shootings that left four protesters dead. This is just the 2018 version of that.
May this serve as a lesson to fashion brands and designers that gun motifs have no place in fashion right now — or ever.