How Disney made Dole Whip feel so exclusive — and the simple reason why lemon is the new flavor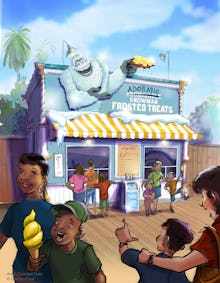 In June, Disneyland will open Pixar Pier at Disney California Adventure in Anaheim, California, in a complete rebranding of Paradise Pier. A handful of Pixar-themed food stands will open along the pier and limited-time offerings, like cocoa churros inspired by Coco, will be available across the resort. And while these items will certainly attract fans (remember how Groot bread took off in 2017?), nothing quite compares to the social media frenzy that's been incited by one new food offering in particular: lemon Dole Whip.
The Monsters, Inc.-themed dessert stand Adorable Snowman Frosted Treats will serve "It's Lemon," a bright-yellow soft serve "snowcapped" with white chocolate, named after a bit of potty humor from the 2001 animated film. It'll also serve a parfait version that layers the lemon soft serve with a blue raspberry slush, playing off the colors in the yeti's eyes and fingernails.
And yes, it is technically Dole Whip: The soft serve is from the same product line as the classic pineapple version introduced at Disneyland in the 1980s, trademarked by Dole and supplied to Disney parks. Pineapple Dole Whip has developed a cult following over the years. (The treat exists elsewhere, typically as "pineapple soft serve" — Dole Whip is a moniker used by Disney at specific locations sponsored by Dole.)
The social media craze around Dole Whip and other foods, like the Mickey-shaped ice cream bar and pretzel, has "caught Disney's attention," AJ Wolfe, editor of Disney Food Blog, said in a phone interview. "They're very easily able to see what their potential guests are interested in because of what they're self-publishing."
How Dole Whip got its cult following
Dole Whip's history is rooted in a sponsorship deal. In 1976, Dole replaced United Airlines as the sponsor of the Enchanted Tiki Room, the Disneyland attraction with the charming and hyper-catchy theme song, and began selling pineapple juice and spears before adding soft serve to the lineup.
For years, it seemed the only way to get a Dole Whip was inside the gates of a Disney theme park — a quintessential part of the vacation experience for many Disney fans — or at the actual Dole Plantation on the Hawaiian island of Oahu.
As a result of Dole Whip's popularity, Disney has produced air fresheners and plush toys inspired by the dessert. In summer 2017, Disneyland sold Dole Whip-inspired pineapple cotton candy. Independent sellers have also picked up on the trend, with Cakeworthy launching a limited-edition Dole Whip-shaped purse in 2017. A search for "Dole Whip" on Etsy reveals nearly 1,800 products for sale, including bath bombs, enamel pins and even car decals to profess one's devotion to the swirled pineapple treat.
Today, Dole Whip is available at all of Disney's U.S. properties and resorts in Hawaii, Hilton Head, South Carolina, and Vero Beach, Florida. It's also outside the park gates at Disney World and the Disney Springs entertainment district, so you no longer need a park ticket to fulfill a craving. But there's a good chance you can find the real thing wherever you live.
"It's probably within three miles of you," Wolfe said.
Dole soft serve, offered in seven fruit flavors, isn't actually all that exclusive. The product is licensed by Kent Precision Foods Group, a food service company based in St. Louis. They supply chains like Menchie's and SweetFrog as well as restaurants, amusement parks and universities across the country. The company has even published a location finder of all the places the soft serve is available.
How Disney magic perpetuated a false sense of exclusivity
So if Dole Whip isn't all that rare or special, why has there been a seemingly perpetual line of tourists snaking through Adventureland for more than 30 years? The answer, of course, is that Disney magic.
"I've gotten into the debate with people of, is it as good, is it authentic, can you call it real if it's not at Disney?" Wolfe said.
"Authentic" Dole Whip is surprisingly easy to make at home. You can buy a bag of soft serve mix — enough to make 89 servings — on Amazon for around $20. Hardcore enthusiasts can even get an official Dole mixing bucket, complete with whisk. Portion out what you need, add water, toss it in an ice cream maker (your countertop Cuisinart will do) and transport yourself to Adventureland.
But purists argue it's just not the same.
"It's a totally different feeling," Wolfe said. "Food writers always say the experience of food is the most important thing. You can get the same food anywhere, but the experience you have while you're eating that food or drinking that drink is what makes you love it so much. That carries a lot more weight than anybody realizes."
"A pineapple Dole Whip on a sunny day in Disneyland ... it doesn't get better than this." — Disneyland Resort culinary director John State
Disneyland Resort culinary director John State said it's not uncommon to hear someone recommend Dole Whip when talking about "must-try" Disney items.
"The pineapple really transports you to another place because it's tropical," State said in a phone interview. "When you're coming from Utah on your vacation, you don't feel a lot of tropical in Salt Lake City or Des Moines, Iowa. So a pineapple Dole Whip on a sunny day in Disneyland, it doesn't get better than this."
Disney has experimented with other citrus treats in the past. In the 1970s, Disney World introduced a product called Citrus Swirl, frozen orange juice twisted with vanilla soft serve, through a partnership with the Florida Citrus Commission. The item disappeared around the time pineapple Dole Whip hit the scene, but returned in 2012 as part of the park's 40th anniversary celebration.
The creation of lemon Dole Whip
Unlike pineapple Dole Whip and the Citrus Swirl, the development of "It's Lemon" began in a more traditional sense for Disney: storytelling. Pixar developed the concept for the Adorable Snowman Frosted Treats stand as a extension of a Monster's Inc. character, but it was up to State and his team of chefs to do the rest.
"They'll give you a one-line statement, 'It would be great if you could do something yellow and a sweet dessert.' It's really up to us to go back and brainstorm," State said. "The story is the critical foundation, but we also have to have a food item that not only tastes great but is [also] something guests want."
And the people want Dole Whip, so State's giving them Disney's first-ever lemon soft serve.
State knows there's no replacing the original, but he's still having fun working up some competition at Pixar Pier.
"The cool thing about it is Dole Whip is still going to hold its own following, but there are so many offerings … going forward, what we're working on, that are really gonna give that Dole Whip some competition," he said.
Wolfe said the posts she's written about the new lemon product have been met with approval by fans.
"Lots of folks commented on the lemon specifically and were excited about it," she said. "What may go the farthest to making it a success would be the fact that it's being sold at one unique location. If it's exclusive and [relatively] hard to get, it will be even more attractive to social-media-hungry guests."
For State, much of the fun comes from watching park-goers enjoy his team's creations. "When they pick up a Groot bread or hold a churro with the Halloween, sort of autumn colors, or the candy corn macaron that's shaped like a [traffic] cone. You can't top that," he said. "I feel like I'm one of the animators, like I'm doing something on a level that when I show [guests] what I'm doing, it just blows their mind. How much more fun could it be?"
April 6, 2018, 10:30 a.m.: This article has been updated to reflect the new name of "It's Lemon", which was changed by Disney after publication.