Trump continues attacks on Amazon, takes aim at California Gov. Jerry Brown in tweetstorm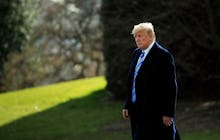 President Donald Trump on Saturday took aim at California Gov. Jerry Brown, who pardoned five ex-convicts this week in an effort to keep them from being deported.
"Governor Jerry 'Moonbeam' Brown pardoned 5 criminal illegal aliens whose crimes include (1) Kidnapping and Robbery (2) Badly beating wife and threatening a crime with intent to terrorize (3) Dealing drugs," Trump wrote, adding yet another bizarre nickname to his repertoire. "Is this really what the great people of California want?"
Trump's rant appears to have come in response to a segment on Fox News, which he tagged in the tweet.
Brown has long been at odds with the Trump administration over immigration. Earlier this month, the Justice department sued California over its sanctuary laws protecting undocumented immigrants, which Brown said amounted to the president "going to war" with the state.
On Friday, Brown pardoned five men who are currently facing deportation.
Sokha Chhan and Phann Pheach, whose families reportedly fled the genocidal Khmer Rouge, are facing deportation to Cambodia. Chhan had served about a year in prison on a 2002 misdemeanor domestic violence conviction. Pheach had served six months on charges of drug possession and obstructing a police officer in 2005.
Daniel Maher — who served five years on charges of kidnapping, robbery and illegal possession of a firearm in 1995 — is facing deportation to China.
Daniel Mena, whose country of origin isn't clear, served time on drug possession charges from 2003. Francisco Acevedo Alaniz, whose home country was also unclear, had served five months in prison on a 1997 auto theft conviction.
The pardons will not prevent the immigrants from being deported, according to ABC News, but could give their lawyers stronger cases to keep them in the United States.
"These are individuals who have turned their lives around and deserve a second chance," UCLA School of Law professor Ingrid Eagly, who represents two of the pardoned immigrants, told the Sacramento Bee.
In his Twitter rant Saturday morning, Trump also continued his offensive on Amazon, which he said earlier this week is "putting many thousands of retailers out of business." On Saturday, he accused the company of operating a "Post Office scam." He also called the Washington Post, which is owned by Amazon head Jeff Bezos, of being a lobbyist for the retailer.
The Post responded by noting that "officials have explained to [Trump] that Amazon's contracts with the Postal Service are profitable for the agency" and that the paper "operates independently" of the online retailer.