This week in Trump-Russia news: Tensions boil between Washington and Moscow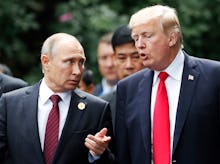 Is the bromance deteriorating?
President Donald Trump this week expelled dozens of Russian diplomats over the Kremlin's alleged poisoning of a double-agent and his daughter. Days later, Russian President Vladimir Putin responded in kind.
The moves reflected, and added fuel to, rising tensions between Russia and the West — despite Trump's warm posture toward the country and its leader.
Here's what you need to know about the increasingly contentious relationship between the United States and Russia — and what's going on with Robert Mueller's investigation.
Skripal attack adds to growing U.S.-Russia rift
The White House announced Monday that it would expel 60 Russian officials from the U.S. over the poisoning of Sergei Skripal and his daughter, Yulia Skripal, in the United Kingdom earlier in March.
On Thursday, the Kremlin retaliated by booting 150 Western diplomats, including 60 Americans, from Russia and closing the U.S. consulate in St. Petersburg.
Sergei Skripal, a former Kremlin military intelligence officer, was convicted in 2006 of identifying Russian spies to British authorities. He was released in 2010 in a spy exchange between Russia and the U.K.
On March 4, he and his 33-year-old daughter were found unconscious on a park bench in a Salisbury, England, mall. British Prime Minster Theresa May said earlier this month that Russia was behind the nerve agent attack. Russia has denied any involvement.
Sergei Skripal apparently remains in critical condition, while his daughter, Yulia Skripal, has reportedly emerged from critical condition.
Amid the increasing tensions, top Trump aides have reportedly pushed the president to adopt a more aggressive posture toward Russia — something he has been disinclined to do, according to the New York Times.
Russia, for its part, has blamed the tensions on the actions of U.S. officials — including Mueller, who indicted 13 Russian nationals and three Russian entities last month as part of his probe.
"It seems to me that atmosphere in Washington is poisoned — it's a toxic atmosphere," Russian ambassador Anatoly Antonov told NBC News Friday. "I don't remember such [a] bad shape of our relations."
Sessions won't appoint a second special counsel — yet
Attorney general Jeff Sessions announced this week that he does not currently see a need to appoint a second special counsel to investigate Republicans' claims of misconduct against federal law enforcement.
The FBI and Department of Justice have been under siege from Republicans since Rep. Devin Nunes (R-Calif.) began circulating a controversial memo alleging that agencies abused their Foreign Intelligence Surveillance Act powers in investigating former Trump campaign aide Carter Page.
Republicans have called for a second special counsel to investigate the allegations.
But, Sessions said in a letter to Republican senators that inspector general Michael Horowitz and U.S. attorney John Huber are currently examining the matter.
"I expect every person in this Department to adhere to the highest level of integrity, ethics and professionalism," Sessions wrote. "If anyone falls short of these high standards, I will fulfill my responsibility to take necessary action to protect the integrity of our work."
Trump lawyer insists there's no effort to fire Mueller
Meanwhile, Mueller has been quiet the weeks since he secured a guilty plea from Rick Gates — Trump's former deputy campaign chairman.
But Mueller did file papers recently alleging that Gates, a longtime associate of former Trump campaign chairman Paul Manafort, had been in touch with Russian intelligence while working on the Trump campaign, it was reported on March 28.
Gates has been cooperating with the Mueller probe since cutting a plea deal with the special counsel in February.
Trump's legal team, which had long suggested it would cooperate with the FBI investigation, has appeared concerned about what Gates and others flipped by Mueller have been telling him.
According to reports this week, John Dowd — who resigned on March 22 as Trump's lead lawyer in the Russia probe — floated the idea of pardoning Manafort and former national security adviser Michael Flynn to prevent them from cooperating with the special counsel.
Dowd left the president's stable of lawyers amid an apparent shift toward a more aggressive stance against the Mueller investigation.
But Ty Cobb, another of the president's lawyers, suggested to Vox Thursday cooperate. He also dismissed speculation that Trump is considering firing the special counsel.
"There is no intention of firing Mueller," Cobb said.