Baton Rouge police fire officer over 2016 killing of Alton Sterling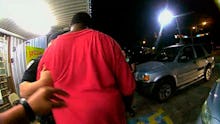 Blane Salamoni — the cop who shot and killed Alton Sterling, a black father of five, in 2016 — has been fired from the Baton Rouge police force, police chief Murphy Paul announced Friday.
"Our police officers are held to a higher standard," Paul said in a press conference. "Fear cannot be a driver for an officer's response to every incident. Unreasonable fear within an officer is dangerous."
Salamoni had violated the department's "training and organizational" standards, Paul said.
The announcement came days after Louisiana attorney general Jeff Landry announced that Salamoni and Officer Howie Lake II would not face charges over the fatal 2016 shooting, saying that an investigation showed the two officers had "acted in a reasonable and justified manner."
Sterling, 37, was killed in July 2016 while selling CDs outside a Baton Rouge convenience store in an encounter with police that onlookers captured in disturbing videos that went viral and prompted large protests.
The Baton Rouge police department on Friday released four new videos of the shooting, including body camera footage in which Salamoni can be heard yelling at Sterling, "Don't fucking move or I'll shoot your fucking ass, bitch."
Salamoni will appeal his termination, his attorney told the Washington Post. Lake, the other officer involved in the incident, will be suspended three days without pay.
"That is my decision, that is the right decision," Paul said of Lake's suspension.
The announcement came as the fatal shooting of an unarmed black man in California made national headlines and sparked a new wave of Black Lives Matter protests.
Sacramento police earlier this month fired 20 shots at Stephon Clark, killing the 22-year-old father of two while he stood in his own backyard. The officers said they believed Clark had a gun, when he was actually merely holding his cell phone.