McCabe GoFundMe campaign raises over $500,000 for legal defense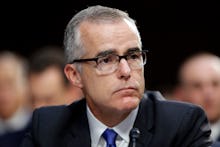 A GoFundMe page for Andrew McCabe has doubled its $250,000 fundraising goal, netting over $500,000 for the fired FBI deputy director's legal defense in just two days.
"The response to this effort has been remarkable and beyond our expectations," a statement on the page read Saturday. "Thank you to all who have lent your voices in support of Andrew and his family!"
McCabe was terminated March 16 — days before he was slated to retire from the bureau with a pension — following months of attacks from President Donald Trump, who cheered the firing as a "great day for Democracy."
Attorney general Jeff Sessions fired McCabe ahead of an upcoming inspector general report that is said to accuse the former number two at the FBI of misleading investigators about information he allegedly disclosed to the media.
In a blistering statement at the time, McCabe said he was being "singled out and treated this way because of the role I played, the actions I took and the events I witnessed in the aftermath of the firing of James Comey."
Comey, the former FBI director, was fired by Trump in May in an episode that has become a significant focus of special counsel Robert Mueller's investigation into possible obstruction of justice on the part of the president.
A spokesperson for McCabe told CNN this week the crowdsource page was set up "in response to a number of congressional inquiries that he will be required to respond to, as well as the broader Office of the Inspector General investigation that is ongoing, and any potential lawsuits he might consider."
As of press time, it had brought in $514,118 — more than double its original goal of $250,000.