Donald Trump kicks off Easter by threatening Mexico with the end of NAFTA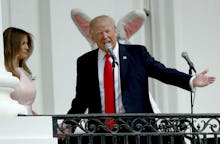 President Donald Trump kicked off his Easter Sunday in familiar fashion: with a tweetstorm attacking everyone from Democrats in Congress to the Mexican government.
Trump expressed his frustrations with the Deferred Action for Childhood Arrivals program and the immigration of Mexican citizens to the United States, as he tweeted about how "Mexico is doing very little, if not NOTHING, at stopping people from flowing into Mexico through their Southern Border, and then into the U.S."
But Trump went further than venting. In one tweet, he threatened to end the North American Free Trade Agreement, which he described as Mexico's "cash cow," if the country does not "stop the big drug and people flows."
"NEED WALL!" Trump added, reiterating his desire for a wall between the U.S. and Mexico.
The tweets comes at a contentious moment for NAFTA. Negotiations on the free trade agreement between the U.S. and its North American neighbors have been taking place since August, CNN reported, and though U.S. negotiators have expressed optimism about NAFTA's fate in recent days, only six of 30 chapters for the new NAFTA agreement have been agreed on thus far. Trump has repeatedly threatened to end the agreement, although the Washington Post noted that its repeal could be potentially blocked by Congress.
The tweets also come at a tense moment for the U.S.-Mexico relationship. Mexican President Enrique Peña Nieto canceled a scheduled White House visit in late February following a call with Trump, during which the two clashed over Trump's statements that Mexico would pay for his proposed border wall. Peña Nieto has reportedly come under pressure not to concede to Trump before Mexico's upcoming presidential election in July.
If Trump were to successfully terminate NAFTA, the move is estimated to trigger a recession in Mexico by mid-2019, the Washington Post reported. The move may benefit Mexican farmers who currently compete with cheaper U.S. produce exports, however — though American farmers could be hurt by the agreement's end, according to PBS NewsHour.
In addition to NAFTA, Trump also tweeted about U.S. policy. He advocated for Republicans to impose the "nuclear option," which would allow Senate votes to pass with a simple majority instead of 60 votes, to pass tougher immigration laws.
"Border Patrol Agents are not allowed to properly do their job at the Border because of ridiculous liberal (Democrat) laws like Catch & Release. Getting more dangerous. 'Caravans' coming. Republicans must go to Nuclear Option to pass tough laws NOW," Trump tweeted.
This is not the first time that Trump has advocated the nuclear option, which Senate Majority Leader Mitch McConnell (R-Ky.) has said he will not invoke.
Trump also threatened DACA's fate on Sunday. Although the courts have repeatedly upheld the immigration program's ability to continue since Trump ended it in September, Trump tweeted Sunday there would be "NO MORE DACA DEAL!"
"These big flows of people are all trying to take advantage of DACA. They want in on the act!" Trump added in a later tweet.
Trump had previously advocated a legislative deal for DACA, which gives legal protections to undocumented immigrants who arrived in the U.S. as children. Prior to his Sunday reversal, Trump had recently put the blame on Democrats for the lack of a deal — even though he has specifically rejected proposed solutions for the program.
"We're trying to have a DACA victory by the way and Democrats are nowhere to be found, it's really terrible," Trump said in March at the Latino Coalition's Legislative Summit, according to CBS News. "We're ready, ready willing and able, but they are nowhere to be found."
The Washington Post noted that Trump's Sunday tweets may have been spurred by Sunday's edition of Fox and Friends, which aired a segment with the headline "Caravan of Illegal Immigrants Heading to U.S."