Donald Trump's anti-immigrant tweetstorm continues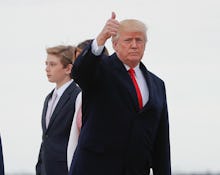 Welcome to Mic's daily read on Donald Trump's America. Want to receive this as a daily email in your inbox? Subscribe here.
Good morning from Emily Singer at Mic. Here is Monday's dispatch on Trump's America.
Here's what's happening in Trump's America:
• It's the White House Easter Egg Roll Monday morning. It remains to be seen if Sean Spicer will be in the bunny costume this year.
Today's question: Who do you blame for the lack of a DACA deal?
Please email us at trumpsamerica@mic.com with your thoughts.
About the weekend: Easter meltdown
It wasn't just chocolate eggs that were melting this weekend.
On Easter Sunday, President Donald Trump melted down on Twitter, complaining about immigrants whom he said were flowing across the U.S.-Mexico border in "caravans" — parroting a piece he appeared to see on, you guessed it, Fox News.
In a series of tweets, Trump scolded Mexico for "doing very little" to stop undocumented immigrants from "flowing" into the U.S.
Trump said that to punish Mexico, he will end the North American Free Trade Agreement (NAFTA) and said that the "WALL" is needed.
Trump also said that there is "NO MORE DACA DEAL" to shield undocumented immigrants who were brought to the U.S. as minors and often know no other country but the U.S. He added the people who are "flowing" into the U.S. want to "take advantage of DACA."
However, illegal immigration is at its lowest level in a decade. And anyone entering the country illegally today would not be eligible for DACA. Only those who have "continuously resided in the United States since June 15, 2007" are eligible for the program, according to U.S. Citizenship and Immigration Services.
In case some thought Trump's tweets were some kind of April fools joke — they weren't.
He continued to complain about the "caravans" of immigrants coming across the border, again parroting a Fox & Friends segment that had aired Monday morning.
"Mexico has the absolute power not to let these large 'Caravans' of people enter their country," Trump tweeted Monday morning. They must stop them at their Northern Border, which they can do because their border laws work, not allow them to pass through into our country, which has no effective border laws."
Trump — who personally ended DACA and then scuttled a bipartisan compromise deal to codify the program into law — reiterated that DACA is "dead" and blamed that on Democrats.
"DACA is dead because the Democrats didn't care or act, and now everyone wants to get onto the DACA bandwagon," Trump tweeted. "No longer works. Must build Wall and secure our borders with proper Border legislation. Democrats want No Borders, hence drugs and crime!"
Today in Trump's America: China retaliates
Trump's trade war is heating up, after China said it will impose retaliatory tariffs on 128 American goods, Politico reported, a response to the tariffs Trump placed on steel and aluminum.
China will add a 15% tariff on American fruits and nuts and a 25% tariff on American pork, among other tariffs.
China is the second largest consumer of American agricultural products, according to the U.S. Trade Representative.
The U.S. exported $21 billion in agricultural products to China in 2016, including $713 million in pork and pork products, and $15 billion in "miscellaneous grain, seeds, fruit," according to the USTR.
China's new tariffs seem to be scaring investors, as the stock market is poised to open lower on Monday.
Capitol Hill happenings: Recess continues
Congress is out for the second straight week for the Easter and Passover recess.
And the rest…
Deja vu: Republicans are still stuck in 2016. According to NBC News, Republicans plan to run against Clinton in the 2018 midterms, despite the fact that she isn't on the ballot.
As if: Clueless actress and conservative activist Stacey Dash ended her congressional run in California's 44th District, citing the "bitterness" of politics. Dash, however, was running as a Republican in one of the most heavily Democratic districts in the country (Hillary Clinton won the seat by a 71-point margin), and was at risk of failing to make it through the primary.
Roseanne: Actress Roseanne Barr continued to tweet false conspiracy theories that began in right-wing Internet circles.