Donald Trump draws more attention to Sinclair's "fake news" promos with tweet slamming media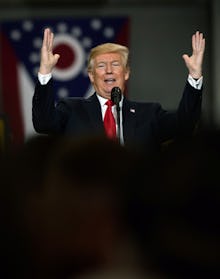 President Donald Trump on Monday defended media conglomerate Sinclair Broadcast Group's "fake news" promotional spots, which forced local television anchors from Sinclair-owned local television stations across the country to mimic Trump's attacks on the press.
"So funny to watch Fake News Networks, among the most dishonest groups of people I have ever dealt with, criticize Sinclair Broadcasting for being biased," Trump tweeted on Monday. "Sinclair is far superior to CNN and even more Fake NBC, which is a total joke."
A video mashup of anchors from Sinclair-owned stations reading from the same script decrying "fake" news went viral over the weekend, and was covered by national news outlets. CNN's Brian Stelter, a media columnist, covered the Sinclair promos on his show on Sunday. "It's another example of how this company's politics are trickling down to local stations," Stelter said.
Trump's Monday morning tweet effectively drew more attention to the controversy around the spots.
Sinclair, which owns more than 190 local news stations covering roughly 40% the country, has a conservative slant thanks to its ownership.
Jared Kushner, Trump's son-in-law, struck a deal with Sinclair in 2016 to have the company's stations give more favorable coverage to Trump. Sinclair hired former Trump campaign aide Boris Epshteyn, who films pro-Trump segments that the company forces its stations to run.
The viral script that local anchors were forced to read tracks closely to the attacks Trump has made on the media.
"We are concerned about a troubling trend of irresponsible, one-sided news stories plaguing our country," the anchors say in the script. "The sharing of biased and false news has become all too common on social media. More alarming, some media outlets publish these same fake stories without checking facts first."
John Oliver also drew attention to the Sinclair spots Sunday night on his HBO show Last Week Tonight, calling them "propaganda."
Aside from highlighting the promotional spots, Oliver also touched on other Sinclair pieces that ran — including an investigation into the "deep state" that Trump conspiracy theorists think is trying to undermine the president.
"When you see just how many local stations were forced to read it, and you watch them together, as many have been doing online in the past couple of days, you begin to realize the true effect of Sinclair's reach and power," Oliver said.
He added, "Nothing says we value independent media like dozens of reporters forced to repeat the same message over and over again like members of a brainwashed cult."
Sinclair is currently in negotiations for a $3.9 billion deal to buy Tribune Media, which owns 42 local TV stations.