What's the deal with Buffy, that comforter you keep seeing on Instagram?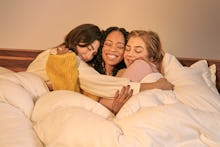 We all spend, whether we want to admit this or not, a pretty ludicrous amount of time lounging around in bed. There's the hours we sleep and then, if you're in a studio apartment or a room with little to no extra space and no couch, the hours we may spend watching Netflix or even eating.
So, rather naturally, companies are starting to understand our need to have a very nice — or the best, really — bed we can buy. Casper has got its mattresses. Brooklinen and Parachute have got high-quality sheets and other bed stuff. And now there's Buffy, which launched in December, with the promise of the "comforter of your dreams" and an eye on becoming the leading brand in this market.
"About 30 million comforters are sold a year, and that's just in the United States," Leo Wang, the founder of Buffy, said in an interview. "There was no leading brand. Even if you go through Amazon, you'll see so much disappointment with the options available."
What sets Buffy the brand apart from many other bed-focused brands is first its values. Buffy prides itself on being sustainable — with comforter filling made from recycled plastic bottles — in addition to being allergen-free, cruelty-free and as thoughtful as possible when it comes to waste. For the outer layer of its comforters, for instance, Buffy uses natural eucalyptus fibers, which require 10 times less water to cultivate than cotton.
"Didn't think you could save the world by choosing the right comforter?" Buffy's website reads. "Think again :)"
For Wang, the business is personal. He grew up in a family that has been in the bedding business for nearly 30 years, making pillows and sheets and comforters for some of the most powerful big box stores, including Target and Bed, Bath and Beyond. During the summers, he'd help unload shipments and walk room to room through his family's textile mill in northern China, trying to comprehend exactly how his family's goods were made.
During that time, he came to understand the waste created with things like textiles, home goods and soft goods, which are often seen as disposable. He also came to understand the cruelty involved in many of these products — especially comforters. The process for creating the goose or duck down filling often found in quality comforters is notoriously brutal.
So Buffy was launched, in part, to change the agenda and help reverse a bit of the environmental footprint this industry has left. How Wang's approached that is by using waste-cutting innovations and technology, like the recycled-bottle filling, that his family never got the opportunity to use.
"I think consumers are becoming more demanding," Wang said. "A big part of how Buffy has grown so quickly is this Millennial set. As you and I go from young adulthood into emergent familyhood, we're starting to shop around for this stuff more and be a little more scrutinizing. For a generation that is so cultured by the wellness phenomenon, from everything from what we eat and exercise with and consume, it's crazy how it's touched every part of our lives except for soft goods. So Buffy has an opportunity to bring this mindfulness to soft goods."
Why start with comforters first? Wang saw what he describes as "emotional potential."
"It's very hard to sell an appliance, because there's not much of an emotional relationship," Wang explained. "But things like sneakers or a comforter or a computer, because of the way we interact with them, the amount of intimacy, there's a lot more emotional potential. A blanket, it holds you and keeps you warm and keeps you relaxed."
What sets Buffy apart too is the lifestyle brand it's creating, by way of Instagram, on its quest to become a "leading brand" in this space. Rather than setting up a typical company Instagram, Buffy has created a culture of engagement on the platform, with pictures of Rihanna, screengrabs from Seinfeld, pop culture throwbacks and, yes, the expected photosets of photogenic young people lounging around in their Buffys.
It's not just, "Please buy our comforter." It's more like "Please be our friend."
"We just wanted to launch with something that felt vibrant," Wang said. "We thought a lot about Casper [mattresses] and when it first launched it was so spirited and fun and approachable, and we wanted to recreate that for today. It wasn't necessarily like we're just going after millennials, but I think it's just at this time when the Millennial traffic wave is about to crash onto these home-good shores."
This comforter, through smart marketing, is on its way to becoming as desirable as an Away suitcase or a Casper mattress.
Within a year, Wang expects Buffy to launch accessories to their comforters, like a cooling eucalyptus duvet cover and sheets for the summer. Then they'll focus on broader home goods, like maybe air purifiers and pillows and rugs and, as Wang put it, "anywhere the idea of comfort makes you feel held and feel at home."