'Drag Babies' explores the complexities of drag while spotlighting the humans behind the makeup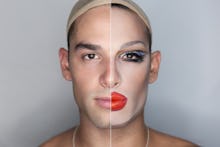 One might think, with the continued success of RuPaul's Drag Race, that a healthy crop of similar shows would emerge. It happened with Drag Race predecessor America's Next Top Model, which spawned similar series The Face, Make Me a Supermodel and The Janice Dickinson Modeling Agency. But other than the occasional cameo on a Real Housewives franchise or VH1's Scared Famous, drag queen programming remains anomalous.
Enter Drag Babies, a new web series created by actor Preston Sadleir that takes everything fans love about Drag Race (like some of its past stars, including season eight winner Bob the Drag Queen, Chi Chi DeVayne and Peppermint), but favors less the competition and flair for the dramatic, and more the interior life of those behind the lashes and beneath the wig.
"Through film school and many years in New York as an actor, I thought I felt totally comfortable on set and directing," Sadleir said in an interview. "Then Drag Babies came along and it was like directing a movie, a fashion editorial, a drag show, an art installation, a 7-year-old's birthday party and a true-crime documentary all at the same time."
The series, which premieres its fifth episode on Tuesday, stars Max Emerson, Johnny Sibilly and Pablo Hernandez, all out gay actors with large social media followings within the LGBTQ community, which is important in crafting a queer-themed series intended largely for a queer audience.
The idea was originally conceived as a 30-second Instagram post and ended up being a full fledged 10-episode docuseries sponsored by major beauty brand Mac Cosmetics. The series is the product of a passionate team committed to pushing the concept as far as it could go, according to interviews with Sadleir and the show's stars.
Is booking celebrity drag queens hard? "Yes!" Sadlier said. Is nailing down availability for social media influencers tricky? "Sure is!" Is harmoniously establishing a brand partnership and making everybody happy impossible? "Absolutely! ... But sticking to that vision and communicating its importance over and over was ultimately the thing that allowed it all to come together. That and a lot of incredible people who stuck with me during the tricky parts."
"Right off the bat, I was like 'Yes, I want to do that,'" Sibilly said in an interview, with one caveat: "What are you doing with this? Because I had some reservations about certain things." Accordingly to Sibilly, who will next star on Ryan Murphy's new series Pose, he wanted to make sure the tone of the project was right — less Mrs. Doubtfire and more Priscilla Queen of the Desert. Once he learned his old friend Peppermint was in, it was a sealed deal. "I knew that anything she's going to be involved in is going to be good."
Sibilly is not entirely new to the art of drag, having created multiple personas on his Instagram including Julissa, who Sibilly describes as "J. Lo's unapologetic cousin;" Megan ("the basic that's always looking for love") and Ina ("the fashion maven that can't stand millennials"). Hernandez, like Sibilly, shares a proximity to many of the Ru girls through personal relationships. In 2015, Hernandez released "Bitch I'm a Bottom," a parody of Madonna's "Bitch I'm Madonna" featuring Drag Race alum Manila Luzon.
But for Emerson, who is signed with Wilhelmina Models and appeared on Glee and The Real O'Neals, drag was unchartered territory. "Everything I knew about drag was wrong," Emerson said in an interview, admitting that he had never before seen RuPaul's Drag Race. "I assumed that if you did it right and wore things correctly it wouldn't be that uncomfortable. By the second day of shooting I was achy and sore in all kinds of new places. Both body and facial movement is incredibly constricted by clothing and makeup. Everything about the way you communicate nonverbally has to change. It's a lot to learn how to exercise this newfound feminine power stemming from this new language."
Sibilly is aware of the optics of three conventionally attractive men dabbling in drag, an art form known for celebrating alternative forms of beauty. This has been a point of contention around certain queens on Drag Race who have cultivated a fanbase largely due to their attractiveness outside of drag.
"I think that's a lot of the problem and where the deep-seated misogyny [in our community] comes from," he said. "You're automatically given a thumbs up if you're a conventionally attractive guy. That's nothing against them. You shouldn't be upset for having privilege, it's what you do with said privilege that counts. A lot of conventionally attractive men rest on that and I think drag strips that away once you get into that room, put on the heels and the pads and really create a new persona where the talent really lies. But I do find it interesting how quickly everyone is like 'Werk! She's pretty as a man' and for me I don't want that. It was something, when I signed up, I was hoping we'd explore in a significant way."
The series, which is halfway through its run, does look at this topic in great detail, through conversations between the drag mothers and their drag babies. For example, in a bonus clip from a recent episode, Peppermint and her drag baby Johnny Sibilly have a frank conversation about gender and "woke drag" (a much-needed dialogue, given recent controversy).
"Anybody who has had the pleasure of dabbling in drag knows there are deep reservoirs of fabulousness that get discovered during a transformation process," Sadleir said. "It's a slow burn, but watching these drag babies magnify parts of themselves that felt ferocious or sensual or messy or gorgeous — it was all very exciting. Although it's merely online reality-style entertainment, I think there's a sharp message that encourages us to celebrate and explore the depths of our creativity. "
Asked why more queer content by and for queer people is important, Emerson quipped, "Well, it looks like we aren't being counted on the census, so it's up to us to achieve our own visibility."