Laura Ingraham's long history of controversial behavior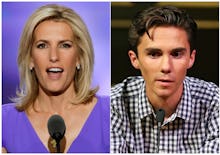 On Friday, right-wing commentator Laura Ingraham abruptly announced on air that she would be taking a week off from hosting her Fox News show, The Ingraham Angle.
"I'll be off next week for Easter break with my kids," Ingraham told her audience. "But fear not, we've got a great lineup of guest hosts to fill in for me."
The host's sudden departure came just days after a public spat with David Hogg, the 17-year-old survivor of the Parkland, Florida, mass shooting. Ingraham had mocked the teen — a staunch advocate for gun reform who has drawn the ire of many right-wing personalities — in a tweet for "whining about" getting rejected from several of the California colleges he had applied to, despite having a 4.1 GPA.
Hours later, Hogg fired back with a tweet of his own.
"Pick a number 1 - 12, contact the company next to that #," he wrote next to a list of twelve of The Ingraham Angle's most prominent advertisers.
Hogg's campaign was an objective success: at least 15 prominent brands have pulled their ad dollars from Ingraham's show as of this writing. By Friday night, Ingraham had issued a swift apology, telling Hogg that "in the spirit of Holy Week" she had examined her conscience and was sorry for "any upset or hurt my tweet caused him or any of the brave victims of Parkland" — an apology Hogg rejected.
It's unclear whether Ingraham's sudden hiatus is a harbinger of an official exit from the network — like her former Fox colleague Bill O'Reilly — or simply a well-timed temporary break from the 24-hour news cycle — a la current Fox employee Sean Hannity.
But long before one of the most prominent faces of the #NeverAgain movement was crying foul, Ingraham was courting controversy in seemingly every realm of the news world, all without repercussions. Below are some of the most prominent of Ingraham's scandals to date — none of which, it's worth noting, had advertisers like Hulu running for the door.
Told LeBron James to "shut up and dribble"
After Cleveland Cavaliers star LeBron James gave a February interview to ESPN in which he talked about the challenges of being black in America — including having a racial epithet spray painted onto the side of his California home in 2017 — Ingraham declared publicly that he should "shut up and dribble."
"It's always unwise to seek political advice from someone who gets paid $100 million a year to bounce a ball," she said on her Fox show. "Keep the political comments to yourselves. ... Shut up and dribble."
Outed gay college students
In 1984 — when she was a student at Dartmouth College and an editor at the school's newspaper, the Dartmouth Review — Ingraham infamously sent a reporter out to collect and then publish the names of those involved in a club for gay students on campus.
In their 2008 book Shock Jocks: Hate Speech and Talk Radio, authors Rory O'Connor and Aaron Cutler wrote of Ingraham:
She went to Dartmouth University and became the first female editor of the conservative 'Dartmouth Review', where conservative author Dinesh D'Souza, a former boyfriend, also worked. While there, she secretly sent a reporter with a tape recorder to a campus gay students association meeting; she then outed the students in print and sent tapes of the meetings to the students' parents. In the magazine she called association members "cheerleaders for latent campus sodomites."
Ingraham later addressed the controversy in a 1997 piece published in the Washington Post, writing that she regretted referring to gay students as "sodomites." She maintained that the mission was "journalistically justifiable" because the club's membership list was kept private, unlike those of other campus clubs.
In a tweet that referenced the outing and subsequent Washington Post piece, ProPublica national politics reporter Jessica Huseman observed that Ingraham "does not admit, even in this piece, that the double standard they were trying to condemn might have been justifiable for a club of gay students."
Touted other "fringe" opinions on LGBTQ communities
In fact, Ingraham's entire record on LGBTQ issues is abysmal, as GLAAD noted in compiled research it released on Friday.
In 2014, the Fox News host called providing transgender transition-related health care to young people "child abuse"; in 2015, she compared same-sex marriage to incest; and in 2016 she referred to former President Barack Obama as "Emperor Obama" in a tweet about his support for out transgender people serving in the military.
"Laura Ingraham's cowardly, public bullying of the students of Marjory Stoneman Douglas High School is consistent with her vile views, including her ongoing targeting of the LGBTQ community," Sarah Kate Ellis, president and CEO of GLAAD, said in a statement accompanying the research.
"From hateful remarks about marriage equality and the transgender community to attacking youth activists and the communities we lock arms with, advertisers must question if they want to be associated with her fringe opinions," she added.
Claimed that Mexicans come to the U.S. to "murder and rape our people"
According to Media Matters, Ingraham said during a March 2016 episode of her radio program, The Laura Ingraham Show, that Mexican immigrants "have come here to murder and rape our people."
"That doesn't mean everybody has, doesn't mean everyone who comes across the border is a nasty, horrible person, but they have violated our laws," she added.
Advocated for the admittance of only Christian refugees
On a 2015 episode of The Laura Ingraham Show, the host argued in favor of restricting the refugees allowed to enter the U.S to those "we can verifiably say are Christians, who are in the threat of being slaughtered."
"I'm happy to bring in some of them. I think most people would," she said. "But all these other people, they've got to stay in the Middle East. We cannot be the warehouse of all these, you know, Muslim people coming from these far-flung lands."
Correction: April 3, 2018