Puerto Rico travel update: What it's like to visit the island 6 months after Hurricane Maria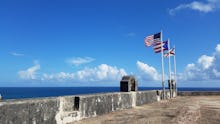 Puerto Rico officially reopened for tourism in December, with more than 120 hotels (about 81%) operating across the island, according to the government-owned Puerto Rico Tourism Company. The remaining hotels are expected to open by summer; meanwhile, airports are operational and cruise ships are once again docking.
But roughly 10% of Puerto Rico remains without power. As the effects of Hurricane Maria continue to impact residents, several volunteer groups are still organizing rebuilding efforts that tourists can participate in. In March, I traveled with Para La Naturaleza on a sponsored trip to the U.S. territory to witness one of the citizen science projects in action — and to see how the island is faring.
Business as usual in San Juan
In the capital city of San Juan, there is little evidence Hurricane Maria ever passed through. Popular attractions like the Castillo San Felipe del Morro, the Bacardi Tour and walking tours of Old San Juan are back up and running.
With new businesses opening in San Juan, the hurricane may feel like a distant memory — but its impact is not forgotten. The Serafina Beach Hotel opened March 20, exactly six months after Maria struck.
"Our hotel was originally slated to open in November 2017, but in the first few months after the hurricane, we opened our doors to first responders and provided them with accommodations and a home base as they continued to help the island recover," Betsy Mujica, director of sales at Serafina Beach, said in an email interview.
Despite sleek beachfront vibes, the hotel still offers voluntourism opportunities for guests interested in helping rebuild. The hotel previously hosted a supply drive where travelers could pack extra dry goods and hygienic supplies for charity organizations. Volunteer activities can be organized through the concierge in advance, and might include community clean-ups and painting and building homes.
Bartenders at San Juan hotspot La Factoría said tourists who come now can take advantage of less-crowded streets, hotels and attractions. But come nighttime, revelers at the bar still spill out onto the street in typical Puerto Rican fashion.
Destruction in El Yunque
The effect of the hurricane is still evident in El Yunque, the national forest roughly 45 minutes from San Juan. The canopy of the forest has disappeared, eliminating shade and making it a much hotter environment. Much of the forest remains closed to visitors as workers clear trails, survey the land and restore power.
"El Yunque has been hit by at least 14 hurricanes and has always sprung back," Para La Naturaleza ecodetour officer Carlos Rodríguez Gómez said during a tour. But it will take time El Yunque to recover: After Hurricane Hugo hit Puerto Rico in 1989, it took about 10 years for the forest's canopy — the uppermost layer of foliage — to grow back, Rodríguez Gómez added.
Visitors can stay updated on El Yunque closures from the U.S. Forest Service.
The farther you travel into Puerto Rico, the more likely you'll see Maria's lingering effects. Downed trees remain by the side of the road; driving requires an ability to swiftly dodge substantial potholes. It's not uncommon for entire portions of roads to remain closed as government agencies work to bring back power.
Travelers who drive to the municipality of Ciales (about one hour outside of San Juan) will find a community open to visitors but still without power. The roadside restaurant Casa Vieja has been running solely on generator power for the past six months while welcoming hungry guests. Locals and visitors alike visit for a menu of traditional Puerto Rican cuisine, including tamarind mojitos, mofongo and blood sausage.
Is it safe to travel to Puerto Rico?
Though authorities estimate that 1.3% of Puerto Ricans still lack access to running water, the tap in most tourist areas is safe to drink. When traveling off the beaten path, bring a pre-filled water bottle and do as the locals do. If they're still boiling or filtering their water, follow suit.
Tourists who opt to rent a car and drive through Puerto Rico should be alert in areas still without power. Stoplights may not work and unexpected detours may pop up as utility workers string new electric wires across streets. Some roads also have an increased risk of landslides.
The International Association for Medical Assistance to Travelers still warns against ongoing Zika virus transmission. Travelers should pack effective bug repellent, and those who are pregnant or considering becoming pregnant should postpone their travel plans.
How to travel responsibly to Puerto Rico
The easiest way to visit Puerto Rico is to stay in San Juan, which has the most traveler-friendly accommodations. Those who want to explore the rest of the island can rent a car or book a tour with a local company. Tourism contributes nearly $4 billion to the island's economy and makes up an estimated 10% of its gross domestic product, according to a press release from the Puerto Rico Tourism Company.
"We look at our amazing progress and towards the future to remind travelers that the best way to support Puerto Rico is by actually visiting," Carla Campos, acting executive director of the PRTC, said in a statement. "Tourism is a vital contributor to our economy."
Mindful travelers should beware of businesses attempting "disaster capitalism" and book excursions through local vendors that have been on the ground since before the hurricane. Tour company Explora PR started the Explora Revival campaign in the immediate aftermath of the hurricane, money from which goes toward rebuilding roads and educating the local community of Arecibo on first aid, solar power and organic agriculture.
If you're interested in voluntourism, look for sustainable projects that enable local communities to help themselves in the future, like installing solar panels, rebuilding community water systems or evaluating the hurricane's impact to nature.
The PRTC sponsors "Rebuild Days," events that allow visitors to help restore natural attractions throughout the island. Vamonos Tours organizes what it calls "meaningful travel" tours, which connect travelers with volunteer opportunities in orphanages, community centers, soup kitchens, rural schools, farms, parks and manatee conservation centers.
"A great deal of time and support is required to recover Puerto Rico's tropical forests and biodiverse landscapes after the hurricanes' damage," Para La Naturaleza president Fernando Lloveras San Miguel said in an email interview. The company hosts projects such as field maintenance in protected areas and replanting native tree species.
On a Saturday morning during my trip, about a dozen students in Cialitos, Ciales, walked around a fallen Anacahuita tree measuring and calling numbers to Para La Naturaleza regional management coordinator Ricardo Rodríguez.
"This tree fell, but it's still alive," Rodríguez said. He pointed out new branches and leaves on the Anacahuita, a tree of great importance to Cialitos. An 81-year-old man said the tree had been around for as long as he could remember. But Mario took the tree, along with many others, when she pummeled the island in September.
The students were measuring the growth of newly planted Santa Maria and Bullet trees when the sound of sirens came blaring up the streets of Cialitos. A caravan of cars and trucks with Puerto Rican flags dangling out of the windows drove up the hill, blasting reggae. The students stopped their measuring to wave and dance to the informal parade.
"They are celebrating," Rodriguez said. "The electricity came back yesterday, so there is a party."
April 3, 2018, 5:23 p.m.: This story has been updated.