A running list of everything Lena Waithe is working on right now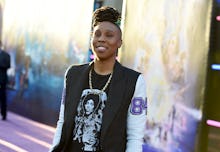 All eyes are on Lena Waithe right now: The writer, director and actor was just on newsstands — the cover of Vanity Fair, to be precise — and in theaters as a star of the newly released blockbuster Ready Player One. And Waithe's Showtime drama The Chi — which she created and executive produces — just wrapped up its first season and has been renewed for a second.
Waithe — who became the first black woman in Hollywood history to win an Emmy for comedy writing in 2017 when she won for her work on the Aziz Ansari Netflix dramedy Master of None — doesn't seem to be slowing down. The 33-year-old Chicago native has a bevy of confirmed and rumored projects in the works — here's everything we know she's currently working on.
Twenties
In February, Deadline reported that TBS had ordered a pilot of a new series from Waithe — titled Twenties — that will follow a young queer black woman, Hattie, and her two straight best friends. In a statement, Waithe, who is out as queer herself, said that she had written the show in 2009 and had been trying to make it for years.
"I always wanted to tell a story where a queer black woman was the protagonist, and I'm so grateful to TBS for giving me a platform to tell this story," Waithe said of her upcoming project, according to Deadline. "Queer black characters have been the sidekick for long enough; it's time for us to finally take the lead."
This new project could offer Waithe a chance to return to the subject matter for which she won her Emmy; the episode of Master of None that earned her the award was written about her character on the show, Denise, but based loosely on Waithe's own experiences as a young queer person.
The Chi season two
The Chi, Waithe's critically acclaimed Showtime drama, just finished up its first season and is on track for a second. Waithe will continue on in her role as executive producer. The Chi follows the intersecting stories of characters who live in and around one neighborhood in Chicago's South Side. For Waithe, who grew up in Chicago, the show was also an intensely personal project.
Speaking to the New York Times in January, just before the series premiered, Waithe said that her goal with The Chi was to humanize Chicago's black residents for audiences that might have only heard about the South Side through news stories covering violence in the city. "My mission is to show these young black men are not born with a gun in their hand," Waithe told the Times. "These are kids who come out with all the promise and hope that any other kid does."
Waithe also told the Times that it was her Chicago upbringing that turned her into such an effective multitasker — "People always go, 'Damn, how you got all this happening at once?' ... I tell them it's the Chicago in me."
A new partnership with Sight Unseen Pictures
In February, Variety reported that Lena Waithe's production company, Hillman Grad, had signed on to a new partnership with Sight Unseen Pictures. (Hillman Grad is named for the fictional college in A Different World.) The goal of the partnership with Sight Unseen is to "champion" new and "underserved" voices in film and television, as the Hollywood Reporter reported in February, when the collaboration was first announced.
According to the Reporter, Waithe said in a statement that she was "so excited to be partnering with such a forward-thinking production company like Sight Unseen," adding, "My mission is to help introduce the industry to new and exciting voices, while putting money in those writers' pockets."
An untitled Mary Tyler Moore biopic
While there's no official plan for this project, Waithe told the Hollywood Reporter in a recent interview that it's long been a dream of hers to make a biopic of her personal hero, television icon Mary Tyler Moore. "I don't think people are expecting that from a black lesbian from the South Side of Chicago. But, I read her autobiography more times than I can count," Waithe told the magazine. "Because I was obsessed with The Mary Tyler Moore Show. I was, like, 'Who is this woman? Who is this person that everybody is wanting to be, that everybody was so happy when she came on screen?'"
Waithe said she was interested in exploring Moore's public life as a TV star and feminist as well as her private life, as a producer and a "functioning alcoholic." But beyond Waithe sharing her plans with the Reporter, there's no indication yet that Waithe's passion project about Moore will ever become a reality. Still, Waithe is such a determined and focused creator that it wouldn't be surprising if it did come together — and Mary Tyler Moore's story clearly isn't the only plan Waithe has up her sleeve.
"I really want to do that and find a dope actress to come in and play [Moore] and figure it out," Waithe said. "That's the thing that's on my radar that I want to figure out. But I'm still a queer black girl and want to tell a James Baldwin [story], too. But that's who I am, that's what kind of artist I am."