Democratic Rep. Elizabeth Esty won't seek re-election after botched sexual harassment case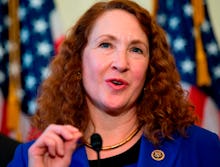 Rep. Elizabeth Esty (D-Conn.) announced on Monday that she won't seek re-election after she mishandled an accusation of sexual harassment against a former top aide in her office.
Esty reportedly kept former chief of staff Tony Baker on staff for three months before he was fired in 2016, despite having learned that he'd left a threatening voicemail for another former staffer, Anna Kain.
On Monday, Esty said that retiring would be "in the best interest" of her constituents.
"Too many women have been harmed by harassment in the workplace. In the terrible situation in my office, I could have and should have done better," Esty said in a statement. "To the survivor, I want to express my strongest apology for letting you down."
A number of Connecticut elected officials called on Esty to resign following the revelation about the sexual harassment case in her office. However, Esty says she will serve out the remainder of her term.
Esty was first elected to her Connecticut House seat in 2012. Her retirement likely comes as a relief to national Democrats, who cannot risk losing a Democratic-held seat as they seek to win back a majority in the House.
Esty's seat was particularly at risk with a scandal-plagued member. Hillary Clinton won the seat by a slim 4-point margin in 2016, smaller than former President Barack Obama's 8-point victory in the district four years earlier.