Mueller was authorized to investigate Russian collusion allegations against Paul Manafort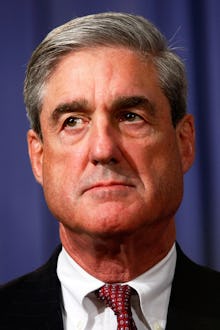 Welcome to Mic's daily read on Donald Trump's America. Want to receive this as a daily email in your inbox? Subscribe here.
Good morning from Emily Singer at Mic. Here is Tuesday's dispatch on Trump's America.
Here's what's happening in Trump's America:
• Special counsel Robert Mueller released a court filing confirming that he was authorized to investigate whether Paul Manafort colluded with Russians to influence the 2016 election.
Today's question: Should Scott Pruitt be fired?
Please email us at trumpsamerica@mic.com with your thoughts.
About last night: Mueller drops a bomb
Special counsel Robert Mueller released a court filing just before midnight on Monday confirming he was authorized to investigate whether former Trump campaign chairman Paul Manafort colluded with the Russian government.
The document includes an August 2017 memo from Deputy Attorney General Rod Rosenstein, in which Rosenstein specifically said Mueller was authorized to investigate allegations that Manafort "committed a crime or crimes by colluding with Russian government officials with respect to the Russian government's efforts to interfere with the 2016 election for president of the United States, in violation of United States law."
The filling came in response to an attempt by Manafort to have his indictments dismissed, by claiming Mueller's appointment as special counsel was not valid.
This latest move makes clear that Rosenstein — who has the power to fire Mueller — stands by the Russia investigation and believes the probe to be completely valid.
Today in Trump's America: Drain the swamp?
A series of bad news dropped on EPA administrator Scott Pruitt on Monday, leading to questions about whether the stories were part of a coordinated effort to fire him.
The stories from various news outlets build on a report that dropped last week, which revealed that Pruitt had leased a Washington, D.C., condo for just $50 a night from a condo co-owned by Vikki Hart, the wife of noted energy lobbyist J. Steven Hart.
The Daily Beast reported Monday that the condo Pruitt rented was used for GOP fundraisers. According to the New York Times, J. Steven Hart Pruitt had a project approved by the EPA. Another report from the Washington Post said Pruitt looked into leasing a private jet to travel in. And yet another report from the Atlantic says Pruitt went around the White House to get two close aides "substantial" pay raises.
Finally, Politico reported that White House chief of staff John Kelly considered firing Pruitt, but that the decision on his future hangs on a yet-to-be-released inspector general report about Pruitt's private jet travel.
Capitol Hill happenings: More retirements
Rep. Elizabeth Esty (D-Conn.) announced late Monday she will retire when her term expires, after she botched the handling of a sexual harassment allegation in her office.
Esty reportedly allowed former chief of staff Tony Baker to remain on her staff for three months after learning that he'd left a threatening voicemail for another now-former staffer, Anna Kain.
"Too many women have been harmed by harassment in the workplace," Esty said in a statement announcing her retirement. "In the terrible situation in my office, I could have and should have done better. To the survivor, I want to express my strongest apology for letting you down."
Esty is now the 54th House member to either announce their retirement or decision to leave the House to run for another office, according to Roll Call.
And the rest…
Stock market slump: The S&P 500 had its worst April start since the Great Depression.
Speaking out: Jill McCabe, the wife of fired FBI Deputy Director Andrew McCabe, spoke out about against the attacks Trump has made against her and her family.
Wildfire strikes: Teachers in Oklahoma and Kentucky started what could be a multiday walkout on Monday to demand better funding for schools, which they say are severely underfunded and dilapidated.
Uh-oh: New York Republican Rep. Dan Donovan is accused of using his position as a member of Congress to get his domestic partner's son out of a heroin arrest.
Correction: April 3, 2018