Jay-Z on his mother coming out: "I was so happy for her that she was free"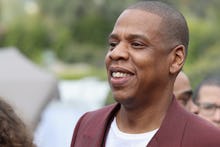 Netflix will release a brand-new episode of David Letterman's long-form — and lengthily titled — interview show, My Next Guest Needs No Introduction with David Letterman, on Friday. The latest sit-down, which is fourth in a total of six planned episodes, features Beyoncé's husband, rapper Jay-Z.
In a clip of the interview, Jay-Z shares the story of his mother's coming out, which he first referenced in "Smile," a track from the album 4:44 released in June.
"Imagine having lived your life for someone else," Jay-Z told Letterman. "And you think you're protecting your kids. And for my mother to have to live as someone that she wasn't ... and for her to sit in front of me and tell me, 'I think I love someone.' I mean, I really cried. That's a real story. I cried because I was so happy for her that she was free."
Jay-Z went on to say he had known his mother was a lesbian, but the conversation they had in June was the first time they talked about it — and he wrote "Smile" the very next day.
"This was the first time we had the conversation," Jay-Z said. "And the first time I heard her say she loved her partner. Like, 'I feel like I love somebody.' She said 'I feel like.' She held that little bit back, still. She didn't say 'I'm in love,' she said 'I feel like I love someone.' And I just, I cried."
Previous episodes of Letterman's interview show featured conversations with former President Barack Obama, actor George Clooney and Nobel Prize winner Malala Yousafzai.