What's Tiffany Haddish working on now? A lot, it turns out.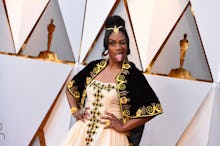 Since her breakout role in the 2017 comedy Girls Trip, it seems like actor and comedian Tiffany Haddish is everywhere. She stars opposite comedian Tracy Morgan in the new Brooklyn-centric comedy The Last O.G., which premieres on TBS on Tuesday.
She's also on television as the new spokeswoman for Groupon and in bookstores on the cover of her 2017 essay collection The Last Black Unicorn. Haddish was a presenter at the Academy Awards, had a comedy special on Showtime, met Oprah during an appearance on Ellen that went viral and hosted Saturday Night Live.
So what's she up to next? Well, kind of a lot, as it turns out. Here's every film or television project Haddish has in the works — that we know of.
The Last O.G.
Morgan stars as Tray, a Brooklynite who has just come home after more than a decade behind bars to find that the borough he loves has been transformed into a Kombucha-sipping gentrified playground.
Haddish stars as Shay, Tray's ex-girlfriend and the mother of his two children. In the time that Tray has been gone, Shay has married a white hipster and started going by Shannon. New York Times critic James Poniewozik praised Haddish's performance in his review of the new series, especially a "strong" fifth episode that features Haddish's character dealing with the death of her neglectful mother.
Night School
Haddish will also star alongside Kevin Hart in the upcoming comedy Night School, directed by Malcolm D. Lee, who also directed Haddish in Girls Trip. In Night School, scheduled for a Sept. 28 release, Hart stars as a high-school dropout who goes back to school to get his GED. Haddish plays Kerry, the teacher in charge of the adult education class. The cast also includes Taran Killam and Ben Schwartz.
In a recent Vanity Fair interview, Haddish spoke about her longtime friendship with Hart, who once gave her $300 to help her out while she was sleeping in her car in Los Angeles, trying to make it in Hollywood. She said that starring alongside Hart was coming "full circle" from the time Hart gave her a helping hand as a struggling comedian. "When I got Night School and we were working on it, I tried to give him the money back again. He's like, 'I don't want your money. Just know your lines and be good in this damn movie.'"
Uncle Drew
Haddish will also appear in the upcoming basketball comedy Uncle Drew, scheduled for a June 29 release. The film stars NBA star Kyrie Irving in a role originally created for a Pepsi ad campaign. Haddish will star alongside ball players Shaquille O'Neal, Chris Webber, Reggie Miller, Nate Robinson and WNBA star Lisa Leslie. The cast also includes Get Out's Lil Rel Howery.
The List
Haddish also has plans to star alongside Tika Sumpter and Omari Hardwick in The List, an upcoming Tyler Perry film, Variety reported in March. Perry wrote the script and will also direct. According to Variety, Haddish will play Sumpter's sister, who is recently released from prison.
The Kitchen
Deadline reported in February that Haddish had made a deal to star alongside Melissa McCarthy in The Kitchen, an upcoming mafia drama directed by Andrea Berloff in her directorial debut. The film, based on a 2014 comic series by the same name, is set in Hell's Kitchen in the 1970s, and follows a group of women who take over the family business when their mobster husbands are sent to prison.
Tuca and Bertie
In addition to all of her live-action work, Haddish will lend her voice to a new cartoon created by Lisa Hanawalt, production designer and producer of the animated Netflix series BoJack Horseman. Haddish is signed on to star as a toucan named Tuca in Hanwalt's upcoming Netflix series Tuca and Bertie, the AV Club reported in February. Haddish will also serve an executive producer of the series, which will follow the friendship between two anthropomorphic bird-women with opposite personalities.
The Oath
Haddish will be back on the big screen again in The Oath, a new thriller and the directorial debut of comedian Ike Barinholtz. As Variety reported in 2017, Haddish will executive produce and star in the film, whose cast also includes Carrie Brownstein, Billy Magnussen, Meredith Hagner, Nora Dunn and John Cho. According to Variety, Barinholtz wrote the script. The film, set in the "near future," and described as a "satirical thriller," imagines a world in which Americans are required to swear a "loyalty oath."
Limited Partners
As Deadline reported back in October, Haddish is also signed on to star in Limited Partners, a "female-driven comedy vehicle" for Haddish, according to the outlet. Not much info is out there for Limited Partners, but Sam Pitman and Adam Cole-Kelly are reportedly signed on to write the script.
The Lego Movie Sequel
Haddish will also star as one of the voices in the upcoming February 2019 sequel to the 2014 animated film The Lego Movie, Variety reported in March. The details of Haddish's character haven't yet been revealed, but she joins voice actors Elizabeth Banks, Chris Pratt, Channing Tatum and Will Arnett.
A new HBO deal
In January, Variety reported that Haddish had signed a first-look deal with HBO. It's not clear yet which projects this will include, but the AV Club speculated that the two-year deal could include a comedy special and a TV series.
Untitled Paul Thomas Anderson project
No formal announcement has been made, but Haddish told Vulture that she and Phantom Thread director Paul Thomas Anderson had been talking ever since Anderson revealed that he was eager to collaborate with Haddish. "I've been talking to [Anderson] on the telephone! I mean, he put his phone number out there, so I had to call. I've talked to him a few times and we're probably gonna work together," Haddish told Vulture. She didn't reveal any details beyond a hint that their project could focus on Los Angeles — but Haddish fans should stay on the lookout for an upcoming collaboration.