17 states sue the Trump administration over census citizenship question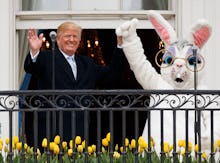 Seventeen states, Washington, D.C., six major cities and the United States Conference of Mayors filed a lawsuit against the Trump administration on Tuesday over its decision to add a citizenship question to the 2020 census, saying the the question will "fatally undermine the accuracy of the 2020 Census" and "jeopardize critical federal funding needed by states and localities to provide services and support for millions of residents."
The lawsuit accuses Commerce Secretary Wilbur Ross — whose department oversees the census — of knowingly adding a question to "deter participation" and "undermine the decennial population count."
"These well-documented risks of adding a person-by-person citizenship demand to the decennial census are heightened in the current political climate because of President Trump's anti-immigrant rhetoric and this administration's pattern of policies and actions that target immigrant communities," the lawsuit alleges.
The lawsuit was filed by New York Attorney General Eric Schneiderman — who has taken on Trump multiple times since Trump took office — and was signed on to by the attorneys general of Connecticut, Delaware, the District of Columbia, Illinois, Iowa, Maryland, Massachusetts, Minnesota, New Jersey, New Mexico, North Carolina, Oregon, Pennsylvania, Rhode Island, Vermont, Virginia and Washington.
"President Trump is out to destroy this bipartisan tradition," Schneiderman tweeted on Tuesday, referring to the census. "His administration is throwing away decades of proven practice by demanding that people responding to the Census disclose their citizenship status."
The major metropolitan cities of Chicago, New York, Philadelphia, Providence, San Francisco and Seattle also signed on, as did the United Conference of Mayors, which includes the mayors of 1,408 cities across the country.
Each state and locality in the lawsuit claims it will be harmed by an undercount of residents thanks to the citizenship question, saying they will receive less funding and inaccurate representation in Congress — which uses the census data to apportion House seats.
The lawsuit — filed in the Southern District of New York — asks the federal courts to declare the citizenship question unconstitutional.
"Let me be clear," Schneiderman tweeted. "The Trump Administration's decision to add a citizenship question to the Census is an affront to our national ideals and to America's history as a welcoming home for immigrants."