Stoneman Douglas students are protesting the clear backpacks they're being forced to use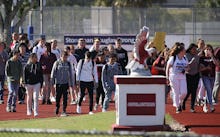 Marjory Stoneman Douglas High School in Parkland, Florida, began implementing a host of new security protocols this week intended to keep students and faculty safe, but some believe the safety measures are nothing more than a glossy diversion from the real issues.
The new safety measures, instituted in the wake of the Feb. 14 mass shooting that killed 17 students and faculty members, have so far included a larger law enforcement presence and identification badges for all students and staff. Broward County Public Schools is also "exploring options for consolidating points of entry for students and staff to include utilizing metal-detecting wands and potentially installing permanent metal detectors," according to a letter sent to parents by superintendent Robert Runcie.
As of Monday, students are also required to carry mandatory clear backpacks meant to deter anyone from bringing weapons to school.
"The new security features are completely ineffective and wouldn't have done anything to stop what happened on Feb. 14," senior Lewis Mizen said in a text message to Mic on Tuesday.
Other students said the rules have a punitive, carceral vibe — and that Stoneman Douglas now feels like a jail.
"It is action taken to make parents feel better, but [it] simply makes the students feel like they are entering a prison, and will certainly deter middle-schoolers and freshman from wanting to attend Stoneman Douglas in the future," Mizen added.
Several students took to social media Tuesday to protest the clear backpacks, adorning them with orange $1.05 price tags in a symbolic show of what their lives are apparently worth to politicians who refuse to pass more substantial gun control legislation.
"This backpack is probably worth more than my life," student Carmen Lo wrote on Twitter.
Student Delaney Tarr also chimed in:
"Starting off the last quarter of senior year right, with a good ol' violation of privacy!" she wrote.
Other students were more direct in their Twitter activism. Sarah Chadwick opted to tag Sen. Marco Rubio (R-Fla.) in her otherwise captionless tweet.
If the new protocols feel restrictive to some, the surveillant overtones are likely amplified for black students, who constitute just 11% of the Stoneman Douglas student body. Some of those students held a press conference Friday to tell reporters their voices were being overlooked in the national conversation currently being facilitated mostly by their non-black classmates.
"The over-policing of our schools may cause more cases of racial profiling," Kai Koerber, a 17-year-old junior, said in a previous interview with Mic. "The over-escalation of minor situations may lead to school staff not being able to handle [and resolve] minor arguments between students."
In addition to making students feel like they're being increasingly policed in schools, the backpack strategy is faulty for another reason: The school has tried it once before, and it failed.
While a student at Stoneman Douglas, Nikolas Cruz — the gunman alleged to have carried out February's mass shooting — had been barred from carrying a backpack to school, the Miami Herald reported.
Stoneman Douglas math teacher Jim Gard told the newspaper that school administrators had once sent an email warning about Cruz, who spoke frequently of his love of weapons and was once found with bullets in his backpack, according to former classmate Joshua Charo.
"We were told last year that he wasn't allowed on campus with a backpack on him," Gard, who taught Cruz, said. "There were problems with him last year threatening students, and I guess he was asked to leave campus."
But despite the backpack ban — and, more significantly, his eventual expulsion from the school — Cruz was allegedly still able to carry out one of the deadliest mass shootings in modern U.S. history.
It's a contradiction Stoneman Douglas junior Isabella Pfeiffer told CNN makes her feel as though lawmakers aren't really listening, despite the March for Our Lives and other student-led protests around the nation.
"This isn't a solution to making sure that a tragedy like the one that happened at Douglas doesn't happen again," Pfeiffer said. "Many of us think that this is a way that legislators can pacify us instead of enacting actual change."