Rick Gates associate is the first to be sentenced in Mueller probe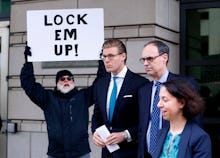 Alex van der Zwaan — an associate of former Trump campaign deputy chairman Rick Gates — was sentenced Tuesday to 30 days in prison and ordered to pay a $20,000 fine for lying to investigators in special counsel Robert Mueller's Russia probe, according to multiple reports.
The Dutch lawyer is now the first person to be sentenced as part of Mueller's investigation.
Van der Zwaan, the son-in-law of a Russian oligarch named in the controversial Steele dossier, pleaded guilty in February to the charge of making false statements to the FBI.
According to a two-page indictment released by the special counsel's office Feb. 20, the Ukraine-connected attorney misled authorities about his most recent contact with Gates; deleted and failed to produce emails Mueller's team had requested; and misrepresented his involvement in an international law firm's report on former Ukrainian Prime Minister Yulia Tymoshenko in 2012.
He made the false statements to Mueller's investigators in November.
Patrick Cotter, a former federal prosecutor, said in a previous interview with Mic that Van der Zwaan's indictment was meant to "tighten the pressure on targets of the investigation" to cooperate and "warn potential witnesses ... even tangential witnesses ... that lying will get you prosecuted."
Mueller has been investigating possible collusion between the Trump campaign and the Russians during the 2016 election, as well as potential obstruction of justice on the part of President Donald Trump, who has repeatedly cast the probe as a "witch hunt."
Gates, a longtime associate of former Trump campaign chairman Paul Manafort, cut a plea deal with Mueller just days after Van der Zwaan's indictment and became the third known former Trump official to cooperate in the investigation. Gates admitted to one count of conspiracy against the United States and one count of making a false statement to the special counsel's office.
That plea deal has likely increased pressure on Manafort, who is facing five criminal charges in a superseding indictment Mueller filed Feb. 23: conspiracy against the United States; conspiracy to launder money; unregistered agent of a foreign principle; false and misleading Foreign Agent Registration Act statements; and false statements.
Manafort has maintained his innocence and has sought to have the charges dismissed, but it was revealed Monday that Deputy Attorney General Rod Rosenstein had authorized Mueller to investigate possible collusion between the former Trump campaign chair and the Kremlin.