Bill Cosby's retrial: What you need to know ahead of the first high-profile trial in the #MeToo era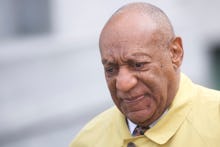 Jury selection for Bill Cosby's sexual assault retrial continued Tuesday at the Montgomery County Courthouse in Norristown, Pennsylvania.
Judge Steven O'Neill also granted two requests from Cosby's attorneys that will help bolster his defense. O'Neill ruled that the jury can hear testimony from a witness who claims they heard accuser Andrea Constand talk about framing a celebrity before coming forward with her allegations against Cosby in 2005. The defense will also be allowed to disclose how much money Cosby paid Constand in a 2006 civil settlement.
Additionally, the judge is allowing five women — all of whom have accused Cosby of sexual misconduct — to testify against him during the retrial: Janice Dickinson, Janice Baker Kinney, Heidi Thomas, Chelan Lasha, and Lise Lotte-Lublin. Prosecutors initially asked the judge to allow testimony from a total of 19 women, the Philadelphia Inquirer reported, but were told to select five of eight.
As of Tuesday, seven of the jurors have been picked. Five jurors are white and two are black, the Associated Press reported.
Here is everything else you need to know ahead of Cosby's retrial.
Cosby faces three counts of aggravated indecent assault against Constand, who accused the 80-year-old of drugging and molesting her at his home in 2004. Cosby claims the encounter with Constand was consensual.
Cosby's first trial ended with a hung jury in June. In the months since, the social climate has shifted as survivors of sexual assault have spoken out en masse as part of the #MeToo movement. Many of the alleged sexual predators who've been called out have been powerful or famous men like Cosby.
At least 60 women had accused Cosby of sexual assault prior to #MeToo's viral moment in October. Cosby is also facing 10 civil lawsuits: Seven women are suing Cosby for defamation in Massachusetts, while Cosby faces three lawsuits in California for defamation and sexual battery
During jury selection Monday, all but one potential juror said they'd heard of the #MeToo movement. The one who said they hadn't was dismissed.
The juror selected Monday was described as a young man who knew nothing about Cosby's case, the Associated Press reported. Attorneys were expected to conduct further interviews with 28 individuals Tuesday. An additional 120 potential jurors were also brought in to help lawyers on both sides fill the remaining 17 seats.
Constand, 44, was first introduced to Cosby in 2002 by a mutual friend at Temple University's Liacouris Center, People previously reported. She was 29 at the time and served as director of operations for the university's women's basketball team.