Scott Pruitt resigns from EPA in letter claiming "God's providence" brought him into Trump's service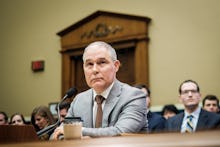 Environmental Protection Agency Administrator Scott Pruitt is the latest high-profile casualty of President Donald Trump's administration, after he resigned his role amid a swirling ethics scandal.
In a letter to Trump obtained by Fox News, Pruitt offered effusive praise to the president and claimed that "God's providence" brought him "into your service."
"It is extremely difficult for me to cease serving you in this role first because I count it a blessing to be serving you in any capacity, but also, because of the transformative work that is occurring," Pruitt wrote. "My desire in service to you has always been to bless you as you make important decisions for the American people."
Trump announced Pruitt's resignation on Twitter Thursday afternoon following weeks of negative media attention focused on the EPA head. The president said Pruitt's deputy, Andrew Wheeler, will now lead the agency.
"I have accepted the resignation of Scott Pruitt as the administrator of the Environmental Protection Agency," Trump said in a tweet. "Within the agency Scott has done an outstanding job, and I will always be thankful to him for this.
"I have no doubt that Andy will continue on with our great and lasting EPA agenda," Trump wrote. "We have made tremendous progress and the future of the EPA is very bright!"
Pruitt came under fire in recent months after revelations that he rented a Washington, D.C., condo for just $50 a night from the wife of a lobbyist with ties to the industry Pruitt is tasked with regulating. He also attempted to use his influence to get his wife a job, including as the owner of a Chick-fil-A franchise.
On top of that, Pruitt also gave massive raises to longtime aides without the approval of the White House, and his staff had reportedly researched the possibility of leasing out a private jet for his own use. He also had a $43,000 phone booth installed in his office.
Pruitt was also among the Trump Cabinet officials who reportedly took charter flights and booked first-class tickets on the taxpayer dime.
The growing ethical cloud around Pruitt ultimately grew too big for the Trump administration to handle, and Pruitt resigned on Thursday.
Pruitt's departure follows those of former Veterans Affairs Secretary David Shulkin, former Secretary of State Rex Tillerson and former Health and Human Services Secretary Tom Price.
More officials have turned over, as Trump appointed CIA Director Mike Pompeo to replace Tillerson and appointed John Kelly as chief of staff, moving him from his role as secretary of Homeland Security. That means nearly a quarter of Trump's Cabinet positions have changed since Trump was sworn in.
Despite Pruitt's short tenure, he was able to have a big impact on environmental policy, rolling back protections from former President Barack Obama's tenure.
Pruitt nixed tougher car emissions standards meant to keep the air cleaner and opted not to ban a particular pesticide — that a review found could have harmful effects on fetuses and infants — from being sprayed on food.
Eric Lutz contributed to this report.