Police: 1 dead in YouTube shooting, 3 injured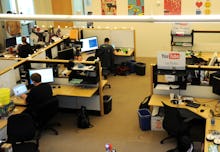 One woman is dead and four other individuals injured after a shooter opened fire at YouTube headquarters in San Bruno, California, on Tuesday, according to police.
San Bruno Police Chief Ed Barberini said in a press conference that four victims had sustained gunshot wounds and had been transported to local hospitals for treatment, and that one woman had died. The woman died from an apparently self-inflicted gunshot wound, Barberini said.
"We have one subject who is deceased inside the building who we believe to be the shooter," Barberini told reporters, according to the Associated Press.
A spokesman for San Francisco General Hospital said they received three patients, including a 36-year-old man in critical condition, a 32-year-old woman in serious condition and a 27-year-old woman in fair condition, the AP reported.
News of the shooting first surfaced in a tweet from YouTube employee Vadim Lavrusik, who said he was "barricaded inside a room with co-workers."
"Active shooter at YouTube HQ. Heard shots and saw people running while at my desk," Lavrusik tweeted.
In a separate tweet posted 16 minutes later, he added, "Safe. Got evacuated it. Outside now."
A photo seemingly from the scene showed people being evacuated from a building with their hands raised, an image reminiscent of the Feb. 14 shooting at a high school in Parkland, Florida, that left 17 people dead.
The communications team for Google — which owns YouTube — tweeted that the company is "coordinating with authorities and will provide official information ... as it becomes available."
April 4, 2018, 10:44 a.m.: This story has been updated.