Liberal justice wins state Supreme Court race in Wisconsin, another sign of a possible blue wave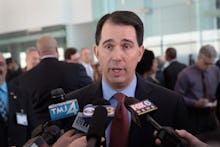 Welcome to Mic's daily read on Donald Trump's America. Want to receive this as a daily email in your inbox? Subscribe here.
Good morning from Emily Singer at Mic.
Here's what's happening in Trump's America:
• A liberal judge won a state Supreme Court seat in Wisconsin on Tuesday night in yet another sign of a potential blue wave in November.
Today's question: Are trade wars "good and easy to win," as Trump once claimed?
Please email us at trumpsamerica@mic.com with your thoughts.
About last night: A blue wave looking likely
A liberal candidate who wasn't an incumbent won a state Supreme Court seat in Wisconsin on Tuesday night for the first time in 23 years, narrowing conservatives' hold on the court to a 4-3 majority and sending a warning sign to Republicans heading into midterm elections.
The liberal candidate, Rebecca Dallet, won the race by a double-digit margin, defeating Michael Screnock, who had GOP Gov. Scott Walker's backing.
While Screnock won in reliably Republican areas, his margins there were not large enough to overcome Dallet's massive margins out of Wisconsin's major cities. That's yet another a sign of growing Democratic enthusiasm after Trump's 2016 presidential win.
Walker, who is up for re-election in November, even tweeted that Dallet's win is a warning sign for Republicans in the fall.
"Tonight's results show we are at risk of a #BlueWave in WI," Walker tweeted Tuesday night.
"Big-government special interests flooded Wisconsin with distorted facts and misinformation," Walker added. "Next, they'll target me and work to undo our bold reforms. We need to keep moving #WIForward and make sure a #BlueWave of outside special interest money doesn't take us backward."
Today in Trump's America: The trade war continues
China announced another round of retaliatory tariffs on U.S. goods early Wednesday morning, spooking investors and leading to yet another plunge in the stock market.
The tariffs hit $50 billion worth of U.S. products, including cars and soy beans. Those products are produced in areas President Donald Trump carried in the presidential election, and China's tariffs on those goods could directly hurt the very workers who likely hoped Trump could bring their jobs back.
This is the second round of tariffs China has placed on U.S. goods. On Sunday, China announced it was placing tariffs on U.S. pork and agricultural products such as fruit and nuts, among other goods.
The tariffs come in response to Trump's tariffs on imported steel and aluminum.
Capitol Hill happenings: Still recessed
The rest of America is back to work after the Easter and Passover holidays, but the House and Senate are still out until next week.
And the rest…
Mueller time: Mueller is still seeking an interview with Trump, as the special counsel hopes he can wrap up a report about the obstruction of justice investigation he's been conducting, the Washington Post reported. According to the Post, Trump is a "subject" of Mueller's investigation, rather than a "target." But Trump's lawyers and other experts say that could change if Trump agrees to an interview.
Speaking of Mueller: Alex van der Zwaan became the first person sentenced as part of Mueller's investigation. The Dutch lawyer will serve 30 days in prison and will pay a $20,000 fine for lying to Mueller's investigators.
Send in the troops: Amid his latest outburst against undocumented immigrants, Trump said Tuesday he wants to deploy U.S. troops to the Mexico border. Trump's call for a military presence on the border led to confusion, as U.S. troops are forbidden from being used as law enforcement officers. But the White House cleared things up Tuesday night, saying Trump will deploy the National Guard — which are controlled by state governors — to the border. That's something past presidents, including former President Barack Obama, have done.
Shooting suspect identified: Nasim Najafi Aghdam has been identified as the suspect in Tuesday's shooting at YouTube's headquarters in California. According to local television station KGO, Aghdam was angry with YouTube for demonetizing her vegan activist videos. Aghdam is dead, while four other victims were taken to area hospitals, including one man who was reported to be in critical condition.