The Phluid Project is here to show what a gender-free shopping future could look like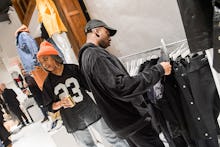 Gender-free fashion isn't a trend — it's a movement, and it may just be the future of retail. But while designers like Gypsy Sport have launched gender-free fashion brands, and retailers like Zara have launched gender-free clothing lines (not without criticism), there has yet to be a store devoted to gender-free fashion, or an entire retail space that doesn't divide its offerings into "men's" and "women's."
Enter now the Phluid Project, which is believed to be one of the first, if not the first, gender-fluid stores in the world. Based on a corner on the border of SoHo in New York City, Phluid has a message before you even walk in: "This is a welcoming, inclusive, diverse and safe space. Intolerance will not be tolerated."
Inside, at first glance, it is akin to an Urban Outfitters or American Apparel (R.I.P.), with colorful T-shirts, crop tops, overalls, latex clothing, harnesses, pants, leggings and dresses. Some of the items come with feel-good positive slogans, like "Optimist" or "Hope."
But then one begins to realize there is no one gender being targeted here. There is no division between a women's section or a men's. It's clothes and accessories and makeup and body care items for everyone, with no single gender in mind and no labels either.
"I was a young, creative kid who wasn't able to be his honest and authentic self," Rob Smith, the founder of the Phluid Project who worked in fashion for 30 years for brands like Macy's, Levi's and Victoria's Secret, said in an interview. "So in a way, I'm creating a space for young people to be their authentic selves and to be unashamed if they want to try on makeup, if they want to try on clothes. It's a space you can try things on and not feel ashamed in any way."
The space is set up to celebrate anyone who comes in, with a private room for people to try on clothes and take selfies and another with neon stalactite-like forms poking out of the wall for ideal Instagram shots. There's a gender-neutral bathroom, and on one wall of the store is a "Social Code" for all to see, with commandments like "We celebrate what makes us different" and "We check our assumptions at the door."
The staff is trained to treat one another with kindness, encourage such behavior from customers within the store and be attuned to people's sensitivities. Even the mannequins, which were custom-created by Smith, were crafted to be neither male nor female.
"I started with the foundation of a women's intimate mannequin and adjusted it from there," Smith said.
Looking at the clothes Phluid stocks, there are items from brands you may know, like Doc Marten's, Champion, FILA, State Bags, Gypsy Sport and Fluide, which is a gender-fluid makeup brand based in Brooklyn. Smith has also made an effort to stock brands that give a portion of their sales to nonprofits, as well as women-owned brands.
Then there is the Phluid Project's own fashion brand, which Smith created to rebel against the idea that gender-free clothing consists of flow-y basics in black, white and grey.
"I think a lot of people who created gender-free clothes, they just make these monochromatic, loose, drape-y clothes and say 'Everybody could fit in this,'" Smith said. "We went through fittings with male and female bodies and it's been really hard. I don't want to create loose, drape-y clothes which are unattractive in many ways. It doesn't embrace or celebrate the body. It just makes it go away. So for our clothes, we got T-shirts and leggings and crop tops and joggers, and more to come."
Smith is still tweaking each design to ensure that it fits as many different bodies as possible. Instead of sizing the brand within the standard XS to XL, which he believes has contributed to body-shaming culture, Smith and his team opted to use a numeric system, 0 to 4, with plans to extend to 00 and 5 and 6 soon. He's made an effort to keep it cost-effective as well.
"If someone was lucky enough to have $100 to spend, they can come in this space and buy three or four things," Smith said.
Beyond just shopping though, there is the community space that Smith has created. Along the back wall is a bar serving coffee and a sitting area where the store hosts events. On Tuesday night, Phluid hosted preteen drag phenom Desmond Is Amazing, who chatted and showed off his best runway walk. Before that, there was an open discussion with Brian Anderson, the first out gay professional skateboarder.
Head downstairs and you're led to a community room that can be booked free of charge for groups wanting to discuss, well, anything at all.
Smith sees this as "the store of the future" not because of technology, but because it's focused on human connection. So can it really be replicated, and can this level of inclusive, gender-free shopping really be the future?
"I think that more and more retailers will convert their stores to gender-free shopping over time," Smith said. "You see that designers are already shifting in this direction when they are creating their lines, so retailers will have to fall into line."
It's just difficult, as he explains, it will likely happen first within independent, smaller brands and stores that are more equipped for this kind of change. For large brands like Macy's and H&M, it will take longer, he says. He hopes to see more spaces like his own in the future.
"If I was to look ahead years from now, there will still be men's and women's stores along with significant growth in gender-free stores across the country and the world," Smith said. "Retailers will have to adapt to young consumers' shopping patterns to survive."
Already, roughly two weeks after opening, Smith has seen the effects his store has had not only on individuals but on entire families — within New York and beyond.
"A family came in from Wisconsin," Smith recalled. "And they came because they heard about it and this is where they decided to go on vacation and this was their first stop. So it really just hit me, and I know we're on the right track. To see the expression on young people's faces, and the gratitude that there's a place like this for them to shop. It's validating for young people and it makes their parents feel good, that there's some place for them."