Trump's trade war could hurt the very voters who put him in the White House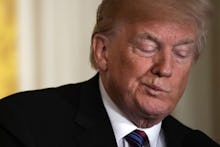 President Donald Trump's trade war continued to escalate on Wednesday, after China announced a new round of retaliatory tariffs on U.S. goods like soybeans, corn, cars and whiskey.
Those tariffs come in addition to earlier tariffs China said it will impose on American-produced pork, fruit and nuts, among other items.
All of China's tariffs come in response to the tariffs Trump threatened to impose on $50 billion worth of Chinese exports, including Chinese electronics and machinery.
And while Trump said in March that trade wars are "good, and easy to win," experts say a trade war between the two countries would have a far bigger impact on the U.S. than China — and would directly hurt the very voters who helped fuel Trump's presidential victory.
"If they go into effect, the tariffs on U.S. exports will hit three broad categories, one being agricultural products, which typically and predominantly come from red states, and they will be hurt," Gary Clyde Hufbauer, a senior fellow at the Peterson Institute for International Economics, said in an interview. "So that would be the biggest impact on Trump voters."
Hufbauer added that China's tariffs on the auto industry would also hit voters hard in Rust Belt states that swung heavily to Trump and helped carry him to victory.
"Virtually all auto parts that are exported to China are on the list, and since Trump has made a whole big thing about bolstering the auto industry in the U.S., this will not be good news. That would tend to hurt folk in those battleground states," Hufbauer said.
Data from the Brookings Institution shared with the Washington Post shows that China's tariffs on agricultural goods could impact roughly 276,000 jobs — more than half of which are in counties Trump won in the 2016 election.
The trade war also has investors on edge, with the Dow Jones Industrial Average falling more than 1,000 points since Trump announced the tariffs in early March.
Trump, however, continues to insist that the U.S. is not in a trade war with China.
"We are not in a trade war with China, that war was lost many years ago by the foolish, or incompetent, people who represented the U.S.," Trump tweeted Wednesday morning. "Now we have a Trade Deficit of $500 Billion a year, with Intellectual Property Theft of another $300 Billion. We cannot let this continue!"
Trump's $500 billion figure trade deficit number with China is incorrect. The trade deficit is $385 billion, according to the Office of the U.S. Trade Representative.
Trump later contradicted himself in a subsequent tweet that suggested the U.S. is in a trade war and that the U.S. will win.
"When you're already $500 billion DOWN, you can't lose!" Trump tweeted Wednesday morning, again using the false trade deficit number.
Trump has been a proponent of tariffs for years.
He floated imposing tariffs on China in his book, Time to Get Tough: Make America Great Again!
He also campaigned on protectionist trade policies in the presidential election, saying tariffs would help bring back manufacturing jobs to the Rust Belt towns that ended up backing Trump.
In fact, Trump brought up tariffs in his campaign announcement speech.
"We have all the cards, but we don't know how to use them," Trump said in the now-infamous speech, referencing the possibility of imposing tariffs on China. "We don't even know that we have the cards, because our leaders don't understand the game. We could turn off that spigot by charging them tax until they behave properly."
During the presidential transition, his team floated a blanket 10% tariff on all imports to make good on his "America first" promises.
Still, as the stock market is reacting to the trade war threat, Larry Kudlow, Trump's new director of the National Economic Council who is against tariffs, is trying to calm investors' nerves, suggesting that the tariffs Trump threatened may not actually go into effect.
"These are just the first proposals," Kudlow told Fox Business of Trump's tariffs. "In the United States, at least, we're putting it out for comment. It's going to take a couple of months. I doubt if there'd be any concrete action for several months. We'll see how that plays out. Nothing concrete has actually happened. These are proposals."
Hufbauer said the markets tend to agree with Kudlow's assessment.
"The markets think it's going to be negotiated out," Hufbauer said, adding that he thinks Trump's tariff talk is "blabber."
However, Hufbauer warned that if these tariffs do go into effect, it will have negative impacts on everyone from investors to workers to consumers.
"It will hurt consumers — they'll pay for sure," Hufbauer said of tariffs. "And workers who are in the affected industries, they will lose their jobs and they will hurt and it will be very painful."