Transgender woman Sasha Wall fatally shot in Chesterfield County, South Carolina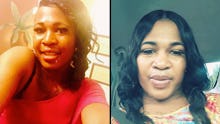 Sasha Wall, a 29-year-old transgender woman, was found fatally shot in rural Chesterfield County, South Carolina, on Sunday morning. Wall's body was discovered in her car, on the side of a rural road, local outlet the State reported Tuesday, in a story that misgendered Wall.
Chesterfield Country Sherriff Jay Brooks — who also misgendered Wall — told local station WJZY that officials believe Wall may have known her killer. But as of Monday, investigators said there were no witnesses and no cameras in the area that might offer clues.
Wall reportedly lived in a mobile home outside of Pageland, South Carolina, according to the State. Pageland, with a population just under 3,000, sits at the northern edge of South Carolina, just near the North Carolina border. In 2017, the small town made headlines when a building owned by a gay couple, Tim and Neil Griffin, was burned to the ground in what the Griffins believed was a hate-motivated crime.
In the days after her death, friends of Wall's posted messages mourning her loss on social media. In one post, a friend of Wall's wrote, "God you have gained another angel ... RIP Sasha Wall we love you more then you kno you will be missed." Another post said, "Sasha Wall you had me always taking photo of you, you stayed ready for the camera. I will miss you my beautiful sister. I cannot sleep, I hope they find who did this."
Wall is the eighth reported trans victim of vicim of homicide in the U.S. in 2018. Just days earlier, Amia Tyrae, a 28-year-old trans woman, was fatally shot in a Baton Rouge, Louisiana, motel room. Of the trans people reported killed so far this year, six have been trans women of color.
However, as was the case with reports of Wall's death, trans victims of fatal violence are frequently misgendered, trans activist Arielle Gordon told Mic in 2017. And some trans victims of fatal violence weren't out to friends or family, meaning that, as Gordon said, "there may be no one to disclose their transgender status to reporters after their deaths." It's in part because of this chronic underreporting that, according to Gordon, the real number of trans homicides each year is likely far higher than reports suggest.