Suspected YouTube shooter "hated" the company, father says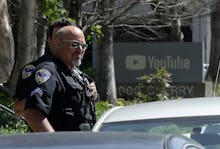 Police identified the woman suspected of opening fire at the YouTube headquarters in San Bruno, California, on Tuesday as 39-year-old Nasim Najafi Aghdam.
Police said Aghdam died of a self-inflicted gunshot wound and three others were injured in the attack, which began around 12:45 p.m. Pacific. Police said they were still searching for a motive for the attack, though Aghdam's family told media that she had been angry at the company.
In an interview with the Mercury News, Aghdam's father, Ismail Aghdam, said that he had reported his daughter missing prior to the shooting and had warned police that she might head for YouTube's sprawling San Bruno headquarters, since she "hated" the company.
"She was angry," he told the News.
The suspect's brother told KGTV News that once they found out Aghdam had been located near Mountain View, California, they tried to warn police of potential danger, according to ABC News.
"I googled 'Mountain View' and it was close to YouTube headquarters. And she had a problem with YouTube," he told KGTV. "So I called that cop again and told him there's a reason she went all the way from San Diego to there, so she might do something. So they didn't do anything, and she got killed ... and three or four more people got hurt."
Aghdam's brother also told ABC the suspect was 38 at the time of the shooting and would have turned 39 on Wednesday.
A website attributed to a person with the same first name claims the streaming website had recently attempted to "suppress" their video content.
"This video got age restricted after new close-minded youtube employees, got control of my farsi youtube channel last year 2016 & began filtering my videos to reduce views & suppress & discaurage me from making videos!" the website reads.
"We have a pretty good idea, but we'd like to get some more information before we can definitively say exactly what that motive was," San Bruno Police Chief Ed Barberini told ABC's Good Morning America on Wednesday. "But obviously she was upset with some of the practices or policies that the company had employed."
Barberini told ABC he did not yet know who Aghdam's family told about their concerns.
At around 2 a.m. on Tuesday — the day of the shooting — police contacted Aghdam's family to let them know that she'd been found asleep in her car and that everything was "under control," her father told the Mercury News.
But later that same day, a woman believed to be Aghdam opened fire in an outdoor courtyard on the YouTube campus, sending company employees streaming out of the building.
The three victims of the shooting were taken to San Francisco General Hospital, which said a 36-year-old man was in critical condition, a 32-year-old woman was in serious condition and a 27-year-old woman was in fair condition on Tuesday.
Google tweeted that the company is working with police and will provide additional information when it's available.