Twitter will now allow you to report hate speech against people with disabilities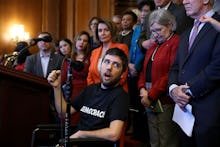 Following intense pressure from disability rights activists, Twitter announced on Monday that it would now allow users to report tweets directing hate towards people with disabilities.
"It's against our rules to directly attack or threaten someone based on their protected category, including disability," a Twitter spokesperson told Mic. "We received feedback from people using Twitter that this needed to be clarified in our reporting flow, and we've updated it to be more specific."
The change to Twitter's reporting flow marks a major victory for activists who had been fighting for the social media company to take meaningful steps towards protecting users with disabilities from abuse, harassment and hate speech on its platform.
"This is a really good development for me and millions of people like me who want to be able to use Twitter without being attacked for our disabilities," activist Ady Barkan, director of local progress at the Center for Popular Democracy, told Mic. "I applaud Twitter for its policy change."
"The acknowledgment by Twitter that ableism is harmful and that abuse of disabled people should not be tolerated is definitely a step in the right direction," disability rights activist and filmmaker Dominick Evans told Mic.
In a February op-ed for Mic, Evans and fellow disability rights activist Natalie Weaver argued that Twitter did not do enough to protect users with disabilities from hateful tweets.
"When I've reported hate speech before on Twitter, usually [Twitter just says] it's not an offense, that it wasn't a breach of the terms of service," Evans said. "They didn't do anything about it."
Prior to Monday's change, disability was "not an identity protected from hate speech on [Twitter's reporting form]," Weaver, the mother of a child with disabilities who was the target of a vicious Twitter campaign, explained in the same op-ed. "Twitter lists hate towards gender, race, religion and orientation, but does not list disability."
In that Mic video op-ed, both Weaver and Evans called on Twitter to explicitly mention hatred against people with disabilities in their reporting form. On Monday, Twitter's vice president of trust and safety announced that it would make that change, thanking Weaver for drawing her attention to the fact that people with disabilities were not specifically included in the abusive tweet reporting flow.
In response, Weaver thanked Evans and other activists with disabilities for fighting to raise awareness for the necessity of this reporting flow change.
"I would like to take this moment to acknowledge and thank the many disability rights activists in the disability community who have been fighting for years to make Twitter change and protect their community," Weaver told Mic.
But Evans and Weaver agreed that they have reason to be cautiously optimistic.
"While this change makes me happy, it means absolutely nothing unless they actually enforce it," Weaver said. "So I am going to continue to work to ensure that [Twitter] finds violations when people with disabilities are being harassed."
"I've reported things I have witnessed that were racist or I have experienced that were transphobic with no results before," Evans explained. "My worry now is that reports will not be taken seriously, especially since many non-disabled people don't understand what ableism is. Where we have to go from here is including disabled people in positions where they can help eradicate this kind of abuse. We know what to look for, and are more likely to do something about it."
He added, "I have lived too long a life in this world to be optimistic! I'd much rather be realistic in my hopefulness!"