Do men accused of misconduct deserve to have their music in event playlists? These DJs weigh in.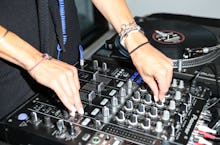 DJs curate playlists to soundtrack Saturday-night debauchery at bars, high-spirited music festival adventures and corporate party schmoozing. But their jobs are much more significant than the obvious supplying of smooth song transitions and pulsating tempos to keep a crowd enthused — although those factors do matter. DJs are also powerful gatekeepers who help determine which artists permeate our culture.
After the rise of the #MeToo movement in October, when survivors of sexual abuse began speaking out about their experiences with new volume and frequency, several powerful men in various segments of the culture were outed for predatory behavior. And that's led to a wider conversation about sexual harassment and misconduct; in the context of the entertainment and music industries, there's the thorny question of whether it's possible or defensible to separate an artist from the art.
In this social climate, DJs are thinking about the role they have to play in all of this.
"As DJs, we literally make a song hot or not," said Fab Roc, a New York City-based DJ who has spun at corporate pop-up events and local hip-hop and R&B parties. "If we stop playing certain people's music at events, it speaks volumes and it can also set the trend for people to care."
Roc recently tweeted that DJs should not play songs by the rapper Fabolous, after TMZ reported he was arrested for allegedly assaulting his girlfriend, Emily Bustamante, on March 28.
In a perfect world, DJs could determine the artists they want to play simply by the preferred mood, production and performance quality of a record. But sometimes popular music is made by people who are complicated, controversial or outright dangerous.
Another artist mentioned in Fab's tweet is R. Kelly. The R&B singer has a widely known, decadeslong history of alleged sexual abuse, including of minors, yet he still has apologists who attend his recent concerts.
Roc has also chosen not to play rapper Tekashi 6ix9ine, who pleaded guilty to three felony counts of child sex acts in October 2015. The 21-year-old took a plea deal, which involves him passing his GED, community service and writing a letter to the victim, Spin reports.
Someone else she's refusing to highlight in her sets is XXXTentacion, a 20-year-old Florida rapper who allegedly assaulted his pregnant ex-girlfriend and has a case pending against him. Despite all of that, he had the number one album — titled ? — on the Billboard albums chart during the week of March 31.
Although these artists have songs that fans love, Fab does not think choosing to censor them hinders her ability to play a great set for her audience.
"DJs can do this because there are a million other artists that are not raping and beating and pillaging people that deserve the shine," she said. "And their music is just as good."
Julio "The Whooligan" Galvez is a DJ and director of worldwide bookings and partnerships for Soulection — an independent music platform, collective and label, founded in Los Angeles in 2011. He echoed the sentiment that DJs are never limited when it comes to building playlists.
"In all my advantages of traveling the world, and playing music and countless parties, [I've learned], yo, there's so much music out there for you to play," Galvez said. "I feel like DJs and musicians, we're kind of like educators."
Sasha Marie, a California-based Soulection DJ who has toured nationally and abroad at venues in London, Paris and Berlin, has also refused to play some of these artists despite their success or popularity with some audiences.
"I don't know every artist's background, but of course the ones that are pretty common, like XXXTentacion or R. Kelly, I would definitely not play their songs," Marie said. "I wouldn't want to put shine on them."
Hannibal Tabu, a writer and DJ based in Los Angeles, who has played local events like the Los Angeles County Fair in the past five years, said in addition to avoiding Kelly's music while working events, he doesn't play late musicians with a history of violence upon women. This includes Rick James, who was convicted in 1994 for assaulting and imprisoning two women, and James Brown, whose daughter, Yamma Brown, detailed memories of him beating her mother Deirdre Jenkins in her 2014 memoir Cold Sweat: My Father James Brown and Me.
"People try to argue with me as if that's going to make me change my mind in the moment," said Tabu, who received requests for these artists at the most recent LA County Fair. "[They'll say], 'Those people are dead.' [But], I make my stand on principle because I have two little daughters who watch everything that I do."
Roc said she confronted another DJ, whom she didn't name, for playing the Kelly song "Step in the Name of Love" at a bar in Brooklyn, New York, this past February. She said his response to her protest turned an otherwise fun party into a toxic space.
"I went to him and I said, 'Are we still playing R. Kelly? Like, that's what we're going to do?'" she recalled.
"And he gets on the mic, in front of the entire venue and said, 'So what, R. Kelly was beating hoes? This song still plays. We can still dance to it.' I'm looking at the women still dancing to this and I'm like, 'Did you just hear what he said?' People don't realize the damage that this does subconsciously."
Galvez said that creating a safe space for partygoers at Soulection events has always started with his team and the DJs they choose to hire valuing social responsibility.
"It really is everyone's responsibility to try to shift things, and truthfully, whether or not you have been down for the movement, or not, or whatever the case may be, the fundamental thing is respect, right? For innocent people."
Marie feels similarly. She said that the #MeToo movement is pushing change, but she hopes to see more input from men, collectively, in dismantling rape culture.
"I think people are fed up at this point, and I think also that it's hard," she said. "The women are not going to just change it. It takes men, too, to offer [support] and to be like, 'No, this isn't cool.' You know?"