'RuPaul's Drag Race' season 10, episode 3: The Vixen brings 'Drag Race' racism to the forefront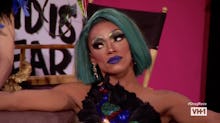 Hello, my photogenic little phytoplankton. Welcome to Fundamental Reading, the weekly column where we chat about RuPaul's Drag Race.
This episode's most crucial storyline concerned a feud between Aquaria and The Vixen — but it didn't actually pay off until the after-episode, behind-the-scenes segment, Untucked, in which The Vixen masterfully unpacked the racist dynamics plaguing the Drag Race community.
Here's how the whole thing unfolded: In the middle of episode three, the girls were in the workroom when Asia playfully shaded The Vixen for borrowing Monique's wig in the "Very Best Drag" runway in episode two. Aquaria, who wasn't included in the conversation, butted in to drive the knife deeper, escalating from shade into outright meanness.
"Can we talk about how your very best drag is someone else's wig though?" Aquaria said. "That's confusing. I brought my best drag. I didn't borrow my best drag."
It's not clear exactly what motivated Aquaria to chime in, but it's likely because she harbored some leftover resentment from when The Vixen called her out in episode two for talking smack about Miz Cracker's makeup. The Vixen and Aquaria exchange a few snide comments back and forth, but their conversation was interrupted when someone spotted a spider crawling through the workroom.
Later, while the queens were all chit-chatting and painting their faces for the runway challenge, Aquaria tried to tell a punny joke, and it didn't quite land. Aquaria has never been the best with words, and The Vixen — still hot off Aquaria's earlier jab — poked fun at her for it.
"It wasn't funny," The Vixen said. And that was all it took to start up their fight once more. Aquaria called The Vixen "negative," and kept framing the conversation as though The Vixen was coming for her — and she was — but Aquaria neglected to realize that she was the one who started the fight in the first place.
"The problem with Aquaria is she likes to poke the bear and run, but this bear will chase you," The Vixen said in a face-to-cam cutaway. "So, if I have to hunt her down to remind her that I am not to play with, that's what I'mma do."
Eventually, the show had to move on to the actual runway challenge (more on that at the bottom of this article), but the conversation resolved more definitively after the main episode was over, in Untucked. With some distance from the initial argument, The Vixen confronted Aquaria more calmly about her perception of what happened.
"What I responded to was you saying that I didn't bring my best drag," The Vixen said. "And the problem is ... when you come for me and I come for you back and you say, 'Oh, you're so negative' — I was chilling. You brought it over here, I [brought] it back, and all of a sudden I'm a bitch."
Aquaria argued she was just engaging in the age-old tradition of "throwing shade," but Monique and Dusty both let her know that her way of throwing shade usually just comes off as mean and standoffish. Eventually, the girls wore down Aquaria's many explanations for what she said, and Aquaria started crying.
"I gotta say this — this right here is exactly what it is," The Vixen said. "You say something, I say something, you start crying. You have created a narrative [that] I am an angry black woman who has scared off the little white girl. When you get super defensive and tell me that I'm negative — when I'm just responding to what you brought to me — that will always read to these [cameras] as a race issue."
Can someone please hand The Vixen a mic to drop, please?
Right there, The Vixen perfectly articulated a problem that's plagued the Drag Race community for ages: So-called fans have a history of inundating queens of color with hate and abuse on social media — including Shea Couleé, BeBe Zahara Benet, Aja and Jasmine Masters, according to Billboard. Sometimes that abuse is rooted in specific incidents on the show, but it's often not sparked by anything in particular.
The Drag Race fandom is notoriously toxic to everyone, but "the fandom kind of leans towards being more supportive of queens who are white or passing," All Stars 3 contestant Aja told Billboard. "I think that queens of color receive more of a petty backlash when it comes to things like having like an attitude problem."
In the moment, The Vixen saw the way her fight with Aquaria — a white, artsy queen with a massive social media following — was playing out, and could tell she would likely be the fandom's next target.
From day one, The Vixen has made it clear that she's not one to be messed with, but she has also consistently proven that she understands Drag Race — and the way in-person moments will read later — on a fundamental level. And Aquaria, who has a habit of biting off more than she can chew when it comes to interpersonal drama, has landed in The Vixen's crosshairs twice now. In episode two, she wasn't letting Aquaria get away with backpedaling her comments about Miz Cracker, and this week, she wouldn't let her get away with "shade" that was just straight-up aggressive.
Only time will tell whether The Vixen's awareness of the Drag Race fandom's racist history will shield her from abuse, or whether she's simply destined to be its next victim.
OK, but what happened on the runway?
At the end of the day, this is a recap column; so I'd be remiss if we didn't also talk about the outcome of the acting challenge in which the girls created commercials for fictional dating apps and the "feathers" runway challenge. Here's a breakdown of how everyone did this week.
Blair St. Clair
This week, Blair once again served up some old Hollywood glamour, wearing a floor-length white-and-gold feathery gown. It was pretty and fit her well, but it wasn't particularly adventurous or imaginative. I didn't dislike it as much as judge Michelle Visage, however, who referred to it as "arts-and-craftsy."
Blair definitely wasn't one of the strongest of the week here, but her standout performance in the "Tap that App" acting challenge as an "Amish Amy Adams" — as judge Carson Kressley rightly described it — kept her safe.
Miz Cracker
Miz Cracker turned out yet another smart, well-executed look this week, separating herself from the numerous white-and-gold looks by opting for a navy cocktail-style dress with gold accessories. In particular, the golden nest perched on her head and bird cage style-detailing around her waist were bold and fun without looking too cheap.
This look was strong and she did well in the main challenge, but Cracker was outshined by the competition, meaning she was merely safe this week.
Eureka O'Hara
This was, without question, Eureka's strongest look of the season so far. I, for one, was thrilled to see her trademark "hair loaves" make a comeback in this look, which evoked major Disney villain vibes, inspiring Carson to call her "Crow-ella DeVille." In particular, I think the sickly, greenish-yellow contacts helped elevate the look beyond the typical, neon, bluish-white contacts drag queens most frequently sport. (In fact, we'll see them on this very runway a bit later.)
Eureka's queen of the crows look, along with her strong performance on The Vixen's team in the acting challenge, landed her in the top of the pack this week.
The Vixen
This week, I most appreciated the queens who didn't opt for traditional, white, dove feathers, and The Vixen was one of them. Her peacock-inspired look featured a long, asymmetrical train to mimic the bird's tail feathers. I would've liked the skirt of the dress a hair longer so that her black undergarments weren't showing when she walked, but otherwise, this look was great.
The Vixen's serviceable work on Blair's team this week, in addition to this look, kept her safe from elimination.
Monique Heart
Monique's look this week gave me serious flashbacks to the season five finale of Charmed, when they all get turned into Greek goddesses. (Was that just me? OK.) The white-and-gold color scheme wasn't too adventurous, but Monique looked powerful and ethereal. Her shoulder wrap, in particular, was what sold this.
This look and her work as team captain for Kameron Michaels, Dusty Ray Bottoms and Mayhem Miller, kept her safe this week.
Mayhem Miller
Mayhem looked incredible this week in her floor-length, black-and-magenta feathered gown with a plunging neckline. Carson didn't love her "realtor" hairstyle, but I think the closely cropped coif was a smart choice, especially given the high collar that went around the back of her head. Anything else would've been too busy.
Typically, I don't love the look of artificial blue contact lenses — I'm looking at you, season seven-era Trixie Mattel — but they lent this look a particular kind of bird-like intensity that was effective and striking. My only qualm with this look was the mesh back. It was crumpled and ill-fitting, and would have looked much better if the mesh were tighter, or if it were backless altogether.
Unfortunately, Mayhem's performance in the acting challenge was so underwhelming that she landed in the bottom two this week.
Dusty Ray Bottoms
There was a lot to unpack with this one, miss Dusty. The garment(s?) itself was white and green — a sort of feathery, dragged-up take on a saloon girl, with bizzare, strappy, knee-high boots? Maybe they're heels? I truly couldn't tell.
Dusty smartly used feathers in place of eyelashes but I think using dark green feathers that matched those on her outfit would have helped her look more cohesive. As is, it was Little Mermaid from the neck up and cabaret rooster from a Las Vegas bathhouse down below. Luckily, Dusty didn't have to look the best to be safe — she just had to fly higher than her competition.
Kameron Michaels
Kameron looked flawless this week, emerging on the runway in a perfectly tailored, detailed, gold-and-black gown with dramatic, gilded shoulder pieces.
She used her bodybuilder physique to her advantage here, with some strategic mesh cutouts on the body of the dress to prevent it from looking too heavy. What really tied this look together, though, was her intricately painted face, which sported perhaps the world's first and only example of a glamorous unibrow.
This look saved Kameron's tightly sculpted tush this week, because she failed to impress the judges in the acting challenge and landed in the bottom three.
Monét X Change
Monét wore a sparkly red number for the second week in a row — but instead of a bodysuit, Monét donned a flapper-like feathered skirt that went from vibrant scarlet to a darker maroon color toward at the bottom.
This look wasn't her best, but it was good enough to keep her safe.
Asia O'Hara
This look gagged the judges, and I'm still not entirely sure why. They typically rag on the girls for coming out in anything too "costumey," but Asia's Tweety Bird-inspired, poncho-like dress garnered universal praise as modern, fun and fashion-forward.
It was definitely bold, I'll give her that. I think the judges were mesmerized by the sheer insanity of it all, which is fair. Regardless of your feelings on this polarizing look, Asia's hysterical performance as a warty, big-nosed single gal in the acting challenge landed her at the very top of the pack this week. In fact, she won the challenge overall.
Yuhua Hamasaki
Yuhua's look this week was fine, but Eureka and Kameron did similar dark, raven queen-style looks much more effectively. The judges also didn't like the arc of dead birds sticking out of her back on wobbly rods — can't imagine why — and sent Yuhua to the bottom two alongside Mayhem.
On the other hand, Yuhua repeatedly rolling across the ground in the acting challenge, with her exercise ball squeaking across the floor, will never not be hysterical. Probably not in the way she intended, though.
Aquaria
The white-feathered looks this week were all ethereal, but Aquaria smartly set herself apart by puncturing her white gown with arrows and using bright red blood to stain the front of the bodice. The red, jeweled detailing on her face tied the whole thing together.
This, alongside her goofy performance as a long-nosed troll on Monét's team in the acting challenge kept her safe.
Mayhem and Yuhua faced off in a final lip-sync to Hole's "Celebrity Skin," but it was clear before the song even started who deserved to stay. Mayhem won the main challenge in the season premiere, and has consistently delivered strong looks. Aside from her stellar entrance look, Yuhua did merely OK in the other challenges. Ru thought so too, and sent Yuhua home.
On the other hand, we'll never get to hear Ru say, "Shantay, Yuhua stay," and that's a damn shame.
Correction: April 6, 2018