Scott Pruitt's ethics scandal continues to roil the White House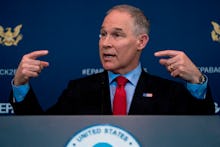 Welcome to Mic's daily read on Donald Trump's America. Want to receive this as a daily email in your inbox? Subscribe here.
Good morning from Emily Singer at Mic.
Here's what's happening in Trump's America:
• Trump heads to West Virginia, where he's set to participate in a roundtable on tax reform.
About last night: Is the White House growing tired with Pruitt's scandal?
White House chief of staff John Kelly is reportedly displeased with Scott Pruitt, head of the Environmental Protection Agency, after stories broke about Pruitt's ethically dubious living situation in Washington, D.C.
According to the Daily Beast, Kelly called Pruitt and demanded that he come clean about whether any more damning stories would come out.
Shortly after the call, yet another story dropped about Pruitt going around the White House to give raises to two employees.
Pruitt went on Fox News on Wednesday to defend himself, claiming that despite being the head of the agency, he had no idea how two of his close aides at the EPA got large raises without the White House's approval.
"My staff and I found out about it yesterday and I changed it," Pruitt said of the raises, a claim Fox News reporter Ed Henry seemed not to believe.
"You don't know? You run the agency. You don't know who did it?" Henry replied.
White House press secretary Sarah Huckabee Sanders also said Wednesday that Pruitt's future in the administration is not guaranteed.
"We're reviewing the situation," Sanders said. "The president thinks that he's done a good job, particularly on the deregulation front. But again, we take this seriously and we're looking into it and we'll let you know when we finish."
If Pruitt is fired, that would create yet another open Cabinet position that the Senate would need to confirm.
Already, the Senate has high-profile confirmation battles coming up for a new secretary of state, a new secretary of Veterans Affairs and a new CIA director. Both the VA nominee and the CIA director nominee could find themselves with contentious confirmation battles. The VA secretary nominee is facing questions about whether he's qualified to lead the massive federal agency, and the CIA director nominee is facing questions about her role in the CIA's torture program.
An EPA confirmation battle would also be sure to create controversy, as the environment and climate change are hot-button issues that Republicans and Democrats spar over.
Today in Trump's America: Staying on message
Republicans are hoping that the tax reform bill the GOP-controlled Congress passed last year will save them in November's midterm elections.
Polling, however, shows that voters are seeing little benefit from the tax bill — leaving Republicans with the task of trying to build up the bill's popularity over the next few months.
That task is made more difficult by Trump's inability to stay on message. This week, for example, Trump has been raging against a caravan of migrants who are fleeing violence in South America.
In an effort to get back on message, Trump will head to West Virginia on Thursday afternoon to participate in a roundtable on tax reform. But given that a roundtable is unscripted, there's a high likelihood that Trump could step on the tax reform message during the event.
Capitol Hill happenings: Still out
The House and Senate are still out until next week.
And the rest…
Boob tube: Trump looks to have made the decision to send troops to the U.S.-Mexico border because of an alarmist story about a migrant caravan that he saw on Fox News. The decision forced the White House to make Trump's troop announcement a reality. And the slap-shot manner with which the policy was put together was apparent on Wednesday, when White House officials could provide little information about how many troops would be sent, how long they would be sent for and how much the operation would cost.
Facebook scandal grows: Facebook revealed that the number of users who had their data improperly shared with Cambridge Analytica was much larger than initial estimates. Facebook says 87 million users had their information shared with the Trump-tied political consulting firm, more than the initial 50 million estimate. Facebook CEO Mark Zuckerberg is scheduled to testify on Capitol Hill next week about the information sharing.
Trade wars: Republicans are warning that Trump's trade war with China — which will deal a major blow to the agricultural sector in states Trump carried in 2016 — could further endanger Republicans' already tenuous position in the midterm elections.