Luann de Lesseps denies blackface allegations after wearing Diana Ross costume on 'Real Housewives'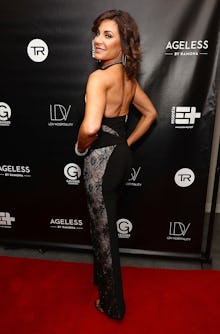 It took but one episode of the 10th season of Real Housewives of New York City, which premiered on Wednesday night, to serve up some controversy. This may be a record.
During the season premiere, the housewives attended a Halloween party, for which one of the lead stars and housewives, Luann de Lesseps, opted to wear an extravagant Diana Ross costume, complete with a white jumpsuit, jewels and one very gigantic afro wig.
"I'm Diana Ross because she's fabulous," she said during the episode. "Tom [D'Agostino, de Lesseps' now ex-husband] is not in tow, so I'm feeling liberated. It's been a while since I've felt my girl power."
When the costume debuted on the show, however, viewers weren't thinking "girl power." They were thinking "blackface," with many noting how de Lesseps appeared to have made her skin appear darker with bronzer.
"Luann's costume is so disrespectful," remarked castmate Carole Radziwill on the show. "I think she's tone-deaf when it comes to cultural stereotypes."
On Wednesday evening, after the show aired, de Lesseps tweeted out a clarification, and denied altering the color of her skin.
"I would like to clear the air," de Lesseps wrote. "I love and respect Diana Ross, this was my tribute to her I was showing my sincere admiration. I in no way altered my skin color and I did not mean to offend anyone."
Then on Watch What Happens Live later that night, she commented on it once again. "I'm horrified," de Lesseps said. "I love Diana Ross and I totally respect Diana Ross. It was really kind of a tribute to her."
"I had bronzer on that I wear normally, like the rest of my skin. I'm tan like right now," de Lesseps said. "I'm very sorry to everyone out there if I offended anyone."
Mic has reached out to de Lesseps' people, and will update when we hear back.