'RuPaul's Drag Race' season 10, episode 3: Yuhua Hamasaki exit interview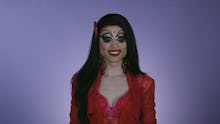 Three down, 10 to go.
The elimination of Yuhau Hamasaki on RuPaul's Drag Race seemed inevitable just minutes into Thursday night's episode.
"Thank you for choosing me," Hamasaki joked to Monét X Change after being picked last for the mini-challenge.
"I wanted to pick people who I felt were strong competitors but also were the most creative ... I got stuck with Yuhua," X Change said in her confessional. "I didn't choose her; I got stuck with her."
That was the first hint in an episode that saw Hamasaki seemingly unable to catch a break. Next came perceived attacks from her teammates and irritation on the part of Hamasaki, who appeared unable to adhere to the challenge's task of uglifying herself. "The hardest part for me in this challenge is wrangling Yuhua," X Change admitted in the confessional. "I don't think Yuhua ever really stands on something and commits to it fully. And that problem is coming to bite us in the ass."`
And it certainly did, as Hamasaki failed to impress the judges with her maxi-challenge performance. "It didn't go anywhere," Michelle Visage said. "I didn't get the joke," Carson Kressley added.
Defensiveness on the runway didn't help matters. "I just feel like everything has a clapback," Visage said during the judges' critique. And so, in a lip sync against fellow queen Mayhem Miller, Hamasaki did her last mid-air split before sashaying away.
Mic spoke with Hamasaki following Thursday night's episode about the elimination and what's next for her drag career.
Mic: Gotta start with a very original question: How are you feeling this morning?
Yuhua Hamasaki: I'm feeling fine. I'm feeling great. Everyone keeps asking me, "How are you feeling?" "Are you OK?" You know, I'm where the universe wants me to be, so I'm fine; I'm fantastic.
Where did you watch the show, and how did those you were with react?
YH: I was at Roscoe's in Chicago. There was a viewing party and I had to watch it on the stage, and basically had the audience watching my reaction to it as I watched the show myself for the first time. It got a little bit difficult at the end. But I thought I killed it on the lip sync, so I had nothing to be worried about. It wasn't like I didn't know the words or anything!
During the maxi challenge, your frustrations with Aquaria and Monét X Change were evident. In watching the episode, do you feel like they were trying to help you?
YH: I felt like they were trying to help, but they were also trying to tell me what to do. It was frustrating because I have my own ideas, and they were just like, "No no no, don't even do that." I wanted to look ugly with the prosthetic nose, but they said, "Don't do it, we have two other girls who are doing it already, don't make everyone look alike," so I ended up listening to them. It was my downfall.
We mentioned Aquaria and Monét, and along with Dusty Ray Bottoms and Miz Cracker, all five of y'all were repping New York this season. Did knowing one another coming into the competition give you an advantage at all?
YH: I think it was good because you already have that sisterhood going on. When I saw all of them together in the work room, it felt like home.
You did not seem very shaken about being in the bottom three, nor about having to lip sync. What was going through your mind?
YH: I knew that I had the song down, so if anything I had that as backup, so that's why I wasn't as shaken as most girls would have been had they been in the bottom.
Last night's Untucked featured what felt like an inevitable showdown between Aquaria and The Vixen, which accelerated into a heated conversation around racial politics and racism within the drag world. As a queen of color yourself, what is your response to watching this play out?
YH: I feel for Vixen, but at the same time ... Actually, to be honest, I wasn't even watching that part because I was more worried about how I was going to look at the end. [Laughs]
But you have to be aware that this is not a new conversation on the show, right?
YH: Yes. I can speak for myself; I can't speak for Vixen or Aquaria. But when I do drag, when I show up, people expect me to be this quiet little drag performer, this subtle drag performer [who] walks around in a gown and is blah, you know? But when they see me on the stage, I'm dancing, I'm moving, I'm funny, I'm young, I'm screaming, I'm loud. So they don't expect it from me. So there is some pre-judgment on what Asian drag performers are supposed to be like.
At the end of Untucked, you described the experience of being on the show as therapeutic. Can you elaborate?
YH: It was a way of finding myself, what my strengths are, what my weaknesses are, how I deal with situations when I'm under pressure, how I deal with the same people the entire time that I'm there. It was also a way of finding myself in my own mind, if that makes sense.
"It's a tough group of girls, and I'm just a little bit weaker than the girls I was up against." You said this immediately following your elimination, which seemed like an odd admission from a queen who seemed so sure of herself early on. Do you actually think you were weaker?
YH: No, I don't think so. I meant weaker in the heart. 'Cause like I said, I came in and listened to Aquaria and Monét. I don't think I'm mentally weaker, I just meant in the heart. If I were tough in the heart, I would have said, "No, bitch, I'm doing this this this, regardless of what you think. I'm not going to be a team player because I know if I listen to you you you, I'm going to end up in the bottom." That's what I meant.
Who are you rooting for this season now that you're gone?
YH: I'm rooting for the strongest, fiercest girl. So whoever that may be. I'm gonna keep watching and give you an answer in a few weeks.
Let's be shady for a sec. Anyone you're not rooting for?
YH: I think everybody has their evil ... not evil, I mean equal ... equal chance of winning because we all bring something different to the table. It just depends on how the cards shake out, what challenges are coming first, what runways come first.
Would you say that overall, the girls are in a good place today?
YH: I would say so. At the end of the day we're all sisters, we all get along. Yeah, we fight, but your uncles [fight], your aunts fight, and when they wake up the next day they are hugging and love each other. That's how we are.
Looking back at this experience as a whole (both the filming and the airing of the episodes), what was the high and what was the low?
YH: My low was obviously going home and my high would be the first episode. I got a lot of air time. My entrance showed my sassy side, my witty side and my fun side, and that I'm not taking myself too seriously. I'm just a mess, you know?
What's next for Yuhua Hamasaki?
YH: I'm going to continue being me, which is why RuPaul chose me for season 10. If RuPaul liked it, I must be doing something right.
Check out Mic's exit interviews with week one eliminated queen Vanessa Vanjie Mateo and week two eliminated queen Kalorie Karbdashian Williams.