What Melania Trump wore her 63rd week as first lady — for the White House Easter Egg Roll and beyond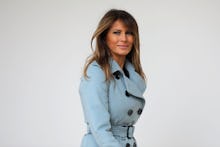 It remained business as usual for Melania Trump this week as she made a couple of Easter-related appearances, including at the White House Easter Egg Roll. Once more, she proved she's clearly a pro at looking bright, cheery and like everything is absolutely fine amid the never-ending cycle of scandals involving her husband's fidelity.
She should teach a class.
This is what she wore:
Sunday, April 1: A pink dress for Easter
Melania Trump spent the weekend in Florida, as per usual, so the Trumps went to Easter Sunday there as well. With her husband and stepdaughter Tiffany Trump (for once) in tow, Melania Trump showed up in Louboutin pumps and a pink dress by the late designer Alaia.
Monday, April 2: A blue Burberry coat for the White House Easter Egg Roll
For the annual White House Easter Egg Roll, which Melania Trump attended alongside her husband and son Barron, she kept up the pastel theme with a light blue Burberry coat to walk among the thousands of guests and read a book to some children.
You can read previous recaps of what Melania Trump wore here.