As his ethics scandal grows, Washington wonders whether Scott Pruitt can survive the week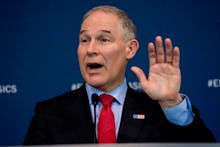 Welcome to Mic's daily read on Donald Trump's America. Want to receive this as a daily email in your inbox? Subscribe here.
Good morning from Emily Singer at Mic.
Here's what's happening in Trump's America:
• Trump further ratcheted up a possible trade war, announcing the U.S. is considering imposing an additional $100 billion in tariffs against China.
About last night: The trade war marches on
Trump further escalated the threat of a trade war with China on Thursday night, announcing that he's considering placing an additional $100 billion in tariffs on Chinese goods.
Trump said in a statement the possible new tariffs are in response to the tariffs China announced earlier this week on a number of U.S. agricultural products. Experts say these would directly hurt residents in the very states that voted for Trump in the 2016 presidential election.
"Rather than remedy its misconduct, China has chosen to harm our farmers and manufacturers," Trump said in his statement. "In light of China's unfair retaliation, I have instructed the [U.S. Trade Representative] to consider whether $100 billion of additional tariffs would be appropriate under section 301 and, if so, to identify the products upon which to impose such tariffs."
In an effort to calm jittery investors who worry about the negative impacts a trade war would have on the economy, Trump administration officials have continued to stress that the tariffs are merely proposals and may not be imposed. Investors seemed to be calmed by these statements, as the stock market rebounded from the initial jitters of the trade war fears, climbing more than 1,000 points from a low of 23,405.
Yet the looming threat of even more tariffs once again has the stock market on edge at the end of the week. Pre-market numbers suggest the markets will take another hit when they open Friday morning.
Today in Trump's America: Will we get a Pruitt news dump?
It's Friday, which means the chances of a late-in-the-day news dump increases, as the country gears up for the weekend. All eyes will be on Pruitt, who has had yet more damning news emerge about his behavior leading the EPA.
The New York Times reported that at least five EPA aides were either sidelined, demoted or requested new jobs after speaking out about their concerns with Pruitt's spending. Meanwhile, Politico reported Pruitt fell behind on the $50-a-night rent he was slated to pay the wife of a lobbyist who works in industries Pruitt regulates.
Mark Segraves of Washington television station WRC reported that the lobbyists who own the condo Pruitt rented received a citation from the city for not having the proper license to rent out the property.
Publicly, Trump says he still has confidence in Pruitt. However, the Washington Post reported that Pruitt's job is in jeopardy, as top aides in the White House grow frustrated with the flood of negative stories about Pruitt's behavior.
Capitol Hill happenings: Lamb to be sworn in
Rep.-elect Conor Lamb (D-Pa.) is set to be sworn in Thursday after Congress returns from a two-week recess. Lamb won a special election in a suburban Pittsburgh district that Trump carried by 19 points in the 2016 election.
Lamb's swearing-in will narrow the GOP's House majority and lower the number of seats Democrats must flip in order to win control to 23.
And the rest…
Girl power: A record 309 women are running for Congress, most of them Democrats, according to the Associated Press. The number breaks the previous record of 298 female candidates, which was set in 2012.
Send in the troops: We finally have an idea of how many National Guard troops Trump is thinking of sending to the U.S.-Mexico border: "Anywhere from 2,000 to 4,000," Trump told reporters Thursday.
Stormy weather: Trump told reporters on Thursday that he didn't know porn actress Stormy Daniels was paid $130,000 in hush money, and he also didn't know where that money came from. "You'll have to ask Michael Cohen. Michael is my attorney. You'll have to ask Michael," Trump told reporters Thursday. The comments mark the first public remarks Trump made on the Daniels scandal.
Alternative facts: An event Trump attended Thursday in West Virginia, billed as a roundtable on tax reform, quickly went off the rails. Trump threw his prepared remarks in the air, declared them "boring," and instead spoke off the cuff about undocumented immigrants and his gripes with Democrats. He also repeated his false claim that millions voted illegally in the 2016 presidential election.
Dash not dine: Unlike his predecessors, Trump won't attend the White House Correspondents Association dinner for the second straight year.