How Floridians are taking on the state to enact stricter gun control measures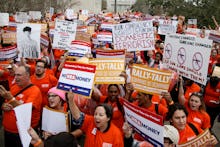 The February mass shooting at a high school in Parkland, Florida, has spurred a nationwide push for gun control — but efforts have also been ramping up in the state where the deadly shooting took place.
The Parkland shooting and the young survivors' tireless activism pushed the Florida legislature to pass gun control legislation in early March that banned bump stocks, raised the minimum age for all gun purchases and implemented a waiting period for gun sales. Yet the legislation still left out some important gun control measures, such as bans on assault weapons and high-capacity magazines.
As a result, Florida municipalities and individuals are now taking matters into their own hands, though they have significant obstacles ahead of them.
"Our legislature is cowardly," Raul Valdes-Fauli, mayor of Coral Gables, Florida, said to NPR. "They are sold to the NRA. And it takes cities, or individuals or communities such as ours to do something."
Florida cities are suing the state to enact their own gun laws
Coral Gables is one Florida town that, in the wake of the Parkland shooting, proposed a new law banning assault weapons, only to find itself stymied by a state law that prevents towns from passing their own gun control laws.
A Florida law passed in 1987 prohibited cities from enacting gun control laws that override state laws, according to the Miami Herald, and in 2011, at the urging of the National Rifle Association, the law was expanded to include penalties specifically for officials who enact gun laws. The penalties included a $5,000 fine, which must be paid from an official's personal funds, and removal from office.
The threat of the harsh penalties caused Coral Gables to table their efforts at passing gun control laws — but other local governments are now demanding change. Ten South Florida cities filed a lawsuit Monday against the governor over the 2011 statute, arguing that the measure is an "unconstitutional restriction of local democracy," the Miami Herald reported.
The suit questions the state's authority to punish officials as outlined in the law. The governor cannot remove an official over implementing gun legislation, the cities argue, as it "is not tantamount to an indictment for committing a crime." The cities also contend that the law violates state rules allowing municipal government to enact laws without fear of legal penalties against lawmakers.
"We can't even propose or even enact public safety measures in our respective communities," Miramar Mayor Wayne Messam told CityLab. "We think it's punitive, we think it's an overreach, and there needs to be a change—there's no other reason why this penalty provision exists but to intimidate and chill lawmakers from enacting any type of regulation."
The cities currently taking part in the lawsuit are Weston, Cutler Bay, Lauderhill, Miami Beach, Miami Gardens, Miramar, the village of Pinecrest, Pompano Beach, Coral Gables and South Miami, the Sun-Sentinel reported. Other governments are expected to follow suit, and NPR noted that gun control advocacy group Everytown for Gun Safety is also planning a lawsuit challenging Florida's pre-emption law.
Attorneys have asked the case to be expedited, although Weston Mayor Dan Stermer predicted to the Sun-Sentinel that the case will likely take years and end up in the state Supreme Court. If it's successful, however, Stermer told NPR that he hopes to have firearms banned in public buildings and parks in his town.
Broward County, which includes Parkland and is expected to file its own lawsuit against the state laws, hopes to regulate large-capacity magazines and enact zoning ordinances that would eliminate guns in certain public areas, the Sun-Sentinel reported.
"Local residents are demanding these types of actions," Broward County Commissioner Michael Udine told the Sun-Sentinel. "We should be able to make these common sense types of ordinances to deal with our local population. I think this is something people are still talking about and I think people want to see common sense regulations. And that's the bottom line."
Floridians are fighting for an assault weapons ban vote
In addition to the cities' actions, Floridians are also fighting to have voters decide the fate of assault weapons in the state.
The Ban Assault Weapons Now committee includes Rep. Ted Deutch, whose district includes Parkland, and Coral Springs, Florida, Mayor Walter "Skip" Campbell, along with several political consultants, Politico noted. The group wants Florida voters to choose whether the state enacts an assault weapons ban, according to the the Trace. To get the question on the state ballot in 2020, however, the group faces a steep challenge: they'll need nearly 800,000 signatures across 14 congressional districts and the proposed law will have to undergo judicial review.
A majority of Floridians have supported the idea of an assault weapons ban in the wake of the Parkland shooting, although the level of support depends on how the banned firearms are defined. A Quinnipiac poll released on Feb. 28 found that 62% of Florida voters were in favor of a nationwide ban on "assault weapons," although only 53% favored a ban on "all semi-automatic rifles."
Similarly, a separate February poll conducted by Florida Senate Republican leaders found that a majority of Floridians, as well as a majority of Florida gun owners, supported an assault weapons ban, the Miami Herald reported.
"Momentum shifts back and forth all the time, and it could be by 2020 that nobody cares," Ben Pollara, a political consultant working on the committee, told the Trace.
"But in the 20 years I've been involved in politics, I haven't seen a moment like this on gun control."