Scott Pruitt's future at the EPA is in doubt, but he's made a lasting mark on the environment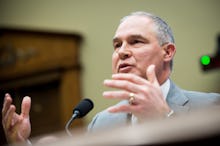 Environmental Protection Agency administrator Scott Pruitt's future in the Trump administration is uncertain as he continues to be rattled by allegations of misconduct in his role as head of the agency tasked with protecting the environment.
Revelations that he rented a Washington, D.C., condo for just $50 a night from the wife of an energy lobbyist are dogging Pruitt, as are other questionable spending habits, such as granting raises to two top aides without consulting the White House and installing a $25,000 soundproof booth — in a project that actually cost around $43,000 — in his Washington office.
President Donald Trump has publicly expressed confidence in Pruitt, telling reporters Thursday that the administrator has "done a fantastic job" and has been "very courageous."
Still, Trump said he would "take a look at" the growing scandal surrounding Pruitt. But even if Pruitt's time in the White House comes to an end, the time he's spent in the role will have a lasting impact on climate.
Since taking the top EPA job in February 2017, Pruitt has made a number of decisions seen as harmful to the environment, from allowing the use of potentially dangerous insecticides at farms to blocking a clean water rule that required farmers, ranchers and real estate developers to limit pollution in bodies of water that run through their property.
Just this week, Pruitt said the Trump administration would roll back the stricter emissions standards former President Barack Obama had placed on car manufacturers in an effort to combat climate change.
Pruitt said in a statement Monday that the Obama-era emissions standards were "politically motivated" and "excessively high."
"The administrator determines that the current standards are based on outdated information, and that more recent information suggests that the current standards may be too stringent," the EPA said in a report.
This decision could create some confusion at the state level. States such as California have the authority to enact stricter emissions standards, which could require car manufacturers to create different vehicles for different states.
Pruitt's recent decision on vehicle emissions has been overshadowed by his ethical troubles, such as the EPA's consideration of private jets for travel and the demotion or reassignment of staffers who question his demands — including the head of his security detail, who allegedly challenged Pruitt's use of lights and sirens in his motorcade to speed up trips to the airport or, on at least one occasion, local restaurant Le Diplomate, according to the New York Times.
Pruitt also proposed in October a repeal of the Clean Power Plan, an Obama-era rule intended to reduce carbon emissions from the nation's electricity sector.
All of these directives have led to a mass exodus from the EPA, with more than 700 people fleeing their jobs at the agency since Trump took office, the Times reported in December.
But Pruitt's ethical scandals — all of his own doing — have given environmental groups added fuel in their quest to remove Pruitt from his role as administrator. The Natural Resources Defense Council, an environmental advocacy group, is running a petition to have Pruitt ousted from the agency.
"Pruitt is sabotaging the agency he runs by strangling its budget, tearing down environmental safeguards, installing corporate polluter insiders in key leadership positions, misusing (possibly illegally) taxpayer dollars on inappropriate expenses and stamping out science that supports protecting our climate and health," the NRDC wrote in its petition. "As a result, millions of Americans stand to suffer terrible harm. It's time to take a stand and say enough is enough. Tell the White House and Congress that President Trump must fire Scott Pruitt immediately."
Pruitt, however, is digging in his heels, suggesting the criticism against him comes from the "environmental left," which is unhappy with his track record of cutting regulations.
"Anytime that you do transformational things, there are critics and there are people [who] are against you in that regard," Pruitt said in an interview with Fox News on Wednesday. "Because this place [has] been — look, it's been a place for years that has been used by the left, [the] environment left, to advance an agenda of picking winners and losers in the marketplace."