US hits members of Putin's inner circle with new round of sanctions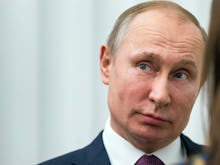 The White House has sanctioned top Russian officials and prominent oligarchs, including one with ties to embattled former Trump campaign chairman Paul Manafort, over the Kremlin's "malign activity around the globe," the United States Treasury Department announced Friday.
"The Russian government operates for the disproportionate benefit of oligarchs and government elites," Treasury Secretary Steve Mnuchin said in a statement. "Russian oligarchs and elites who profit from this corrupt system will no longer be insulated from the consequences of their government's destabilizing activities."
The new round of sanctions targets seven Russian oligarchs and 12 of their companies, 17 high-ranking Kremlin officials, a state-owned weapons company and a state-run bank.
Among the sanctioned oligarchs was Oleg Deripaska, an aluminum magnate who has been linked to Manafort and whose ties to organized crime got him banned from the U.S. in the 1990s.
Manafort reportedly offered to brief Deripaska, one of Russian President Vladimir Putin's closest associates, on the 2016 presidential race.
"If he needs private briefings we can accommodate," Manafort reportedly wrote in a July 2016 email to an intermediary.
Manafort was indicted by Robert Mueller in October and is facing five charges, including conspiracy against the U.S., in a superseding indictment filed by the special counsel in February.
According to the Treasury Department, Deripaska is being sanctioned for "having acted or purported to act for or on behalf of, directly or indirectly, a senior official of the government of the Russian Federation." Treasury also noted that the Russian billionaire has "been accused of threatening the lives of business rivals, illegally wiretapping a government official, and taking part in extortion and racketeering," along with allegedly ordering the murder of a businessman.
The new sanctions come amid increasing tensions between Russia and the West.
In March, the U.S. imposed sanctions on the Internet Research Agency and officials connected with the Russian troll farm after Mueller indicted the entities and individuals for their role in Russia's interference in the 2016 U.S. election.
Then, later that month, the Trump administration expelled Russian officials from the U.S. in response to Moscow's alleged poisoning of a former Kremlin spy in England March 4.
Putin responded days later by booting 150 Western diplomats, including 60 Americans, from Russia and closing the U.S. consulate in St. Petersburg.
"I don't remember such [a] bad shape of our relations," Russian ambassador Anatoly Antonov told NBC News of the U.S. and Russia on March 30.
The sanctions also come as the president continues to be investigated over his campaign's ties to the Kremlin as well as the possibility he sought to obstruct justice.
According to Mnuchin, the sanctions are a response to several of Russia's malicious activities around the world, including "continuing to occupy Crimea and instigate violence in eastern Ukraine, supplying the Assad regime with material and weaponry as they bomb their own civilians [and] attempting to subvert Western democracies."
The individuals and entities named in Friday's sanctions will have their U.S. assets frozen and will be prohibited from doing business with Americans.