Who's Sorry This Week? Lorde, Luann de Lesseps and other public apologies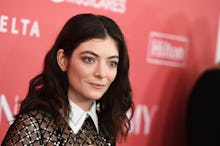 Another week, another deluge of apologies.
In Who's Sorry This Week?, Mic tracks down the most prominent mea culpas from celebrities, companies and other public entities trying to make amends for their various screw-ups.
This week had no shortage of apologies, so let's get right to it.
Lorde is sorry for posting a picture of a bathtub on Instagram accompanied by Whitney Houston lyrics
Thursday night, 21-year-old singer Lorde was excited to take a hot, relaxing bath. So like any good millennial, she posted a picture on Instagram of the tub and accompanied the post with a song lyric.
"And iii will always love you," the caption on the now-deleted post said.
What she didn't initially realize is that Whitney Houston, the singer who recorded an iconic rendition of Dolly Parton's "I Will Always Love You," died in 2012 by drowning in a bathtub, according to the Hollywood Reporter.
"Extremely extremely poorly chosen quote," Lorde posted on her Instagram story soon thereafter. "I'm so sorry for offending anyone — I hadn't even put this together, I was just excited to take a bath. I'm an idiot. Love Whitney forever and ever. Sorry again."
Real Housewives of New York City star Luann de Lesseps apologizes for Diana Ross costume, but denies donning blackface
On Wednesday's premiere of the 10th season of Real Housewives of New York City, the housewives went to a Halloween costume party. One of the show's leads, Luann de Lesseps — formerly a countess! — dressed as Diana Ross for Halloween. To get in character, she donned a massive, oversized, black afro wig and a white jumpsuit.
During the episode, many viewers remarked on social media that it appeared de Lesseps had darkened her skin with bronzer, leading some to accuse her of donning blackface.
Wednesday evening, de Lesseps tweeted to "clear the air."
De Lesseps also appeared on Watch What Happens Live with Andy Cohen that same night, offering a more formal apology.
"I'm horrified," de Lesseps said. "I love Diana Ross and I totally respect Diana Ross. It was really kind of a tribute to her. ... I had bronzer on that I wear normally, like the rest of my skin. ... I'm very sorry to everyone out there if I offended anyone."
Frank Stallone is sorry for tweeting that peers of Parkland, Florida, shooting survivor David Hogg must be "dying to sucker punch" him
Frank Stallone, brother of Sylvester Stallone, tweeted Sunday that peers of David Hogg — a survivor of the February shooting in Parkland, Florida — were probably "dying to sucker punch" him, according to USA Today. The tweet has since been deleted.
Sunday, Frank Stallone tweeted an apology, saying, "After what these kids went through, I'm deeply ashamed."