Rapper Smino explains why he created a satin-lined hoodie to help people with natural hair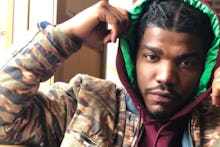 For people with natural hair or those who wear their hair in a protective style, sleeping on satin has proven to be hugely advantageous.
With benefits like keeping hair hydrated, preventing split ends, minimizing hair loss and elongating natural styles like bantu knots, dreadlocks and twist-outs, many people have made a habit of sleeping on a satin pillowcase or wrapping their hair in a satin scarf or cap before bed.
One rapper recently made that nightly routine a bit comfier. Earlier this week, St. Louis rapper Smino debuted a new piece of merchandise from his label Zero Fatigue — a hoodie with a satin-lined hood.
"I made dese satin for ppl w/ hair who like napping in hoodies," Smino wrote on Twitter. "The last pic how happy u gone look wen u wake up like Beyoncé."
"I was just honestly high, falling asleep in a hoodie during a merch meeting and said, 'Damn, let's put satin in the hoods so I won't fuck my hair up,'" Smino said in a Twitter conversation with Mic.
Thousands of comments quickly streamed in on Smino's post, with fans praising him for this genius innovation.
"I literally KNEW girls would love it, but [I] had no idea niggas would be so happy lol," Smino said.
The maroon hoodies with pink satin lining have already sold out, but Smino teased on Twitter that a black version would debut soon. He also told Mic more colors were on the way.
"So many color ways are ready right now," Smino said. "Arranging the release for next week."