Losing Global Entry is easier than you think. Here are 4 common mistakes travelers make.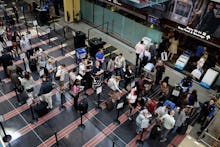 It's been nearly 10 years since the U.S. Customs and Border Protection introduced the Global Entry program in 2008, to great success. According to the CBP's 2017 report, the agency enrolled nearly 2 million travelers into the Trusted Traveler programs (which include Global Entry, NEXUS, SENTRI and FAST) in 2017, bringing the total number to 6.8 million. The majority are signed up for Global Entry — considered the agency's flagship program — and as it gains in popularity, so do the questions around the process, particularly for the growing class of travelers who have had their status denied or revoked.
Earlier in April, the CBP, along with the Department of Homeland Security, complied with a Freedom of Information Act request to release a list of Global Entry travelers whose memberships were revoked from November 2016 to June 2017, along with the reasons why.
Even though the agency is notoriously secretive about the "program requirements," it's known that any prior criminal activity (even a misdemeanor) can result in denial of GE status. Status can also be granted and later rescinded after the agency discovers a conviction.
"A traveler whose membership is revoked can reach out to the CBP Ombudsman for information regarding the revocation," Jennifer Gabris from U.S. Customs and Border Protection's Office of Public Affairs, said in an email interview. "The traveler can also reach out through FOIA for information regarding their membership status." (One traveler, who wished to remain anonymous, successfully had their GE status reinstated by the ombudsman after a seven-month appeal process.)
The newly released list, which spans 81 pages, is mostly predictable — many times status was revoked for the non-specific reason, "You do not meet the program eligibility requirement." But there were a few unexpected entries that could trip up even the savviest of travelers. Here are four of the major ways you can lose your Global Entry.
Taking out travel stress on an officer
It's perfectly normal to get off a long flight feeling pretty wrecked, but there's no reason to take it out on the CBP officer.
One traveler lost Global Entry on New Year's Day in Atlanta because of "uncooperative behavior" at the airport. "The Global Entry Trusted Travelers program is a privilege, not a right, and all passengers, including flight crew, are subject to search," wrote a CBP officer in the obtained document. "The purpose of the Trusted Travelers program is to expedite your entry into the U.S. by using the Global Entry Kiosk, not to bypass inspection by a Customs and Border Protection Officer."
In another entry, an officer wrote that a traveler became combative during their travel companion's admissibility interview into the country. "You guys are all fucking pricks," the traveler yelled. "This is fucking bullshit." These statements "demonstrate a lack of respect for the CBP Officers and the laws which they enforce," wrote the officer who revoked the traveler's membership.
Yes, the officers have that power, and they can use it at their discretion.
Neglecting to declare goods — including duty-free items
Adrienne Wong made a costly mistake when she bought a $1,150 gemstone in Antigua, believing it to be duty-free.
"When the customs officer searched my bag, he found the receipt for the stone I bought. He said I did need to declare it, so I asked if I could put it on the form as it was an honest mistake," she told Elliott, a consumer advocacy site. "He replied 'no,' stating that I had already handed him the form and that I couldn't make any other changes." Two days later, Wong received an email that her Global Entry status was revoked.
If you buy a liter of liquor or more than $800 in cosmetics, you'll likely need to declare it as well. The Global Entry kiosk asks if you have exceeded your duty-free allowance with a simple yes-or-no question, but there's a catch: you're only allowed a duty-free exemption every 30 days. If you travel more than once a month, you're on the honor system for working that one out.
Treating Global Entry like a family plan
Unlike the paper customs forms, which are filled out per household, your Trusted Traveler status belongs to you and you alone. If you're traveling with friends or family who aren't part of the program, you can't allow them to use the kiosk or the Global Entry lane.
One program member had status revoked after they entered the U.S. using the Global Entry kiosk, but then "continued to proceed to exit control with an infant and a family member" who were not members of Global Entry.
Forgetting a snack in your bag
Agricultural violations from transporting food are among the most common violations that CBP officers discover. But, contrary to what some travelers believe, this doesn't exclusively mean fruits, vegetables and meat products. The form asks explicitly for "food" — and yes, candy counts, as one flyer found out the hard way.
"The officer asked me if I had any food, and I replied, 'Some chocolate candy,'" an unnamed traveler told BoardingArea. "He asked if I had declared it on my customs form and I said, 'No,' because I didn't think I had to declare candy."
While she didn't lose her status, Customs informed her she could have faced a $10,000 fine for her transgression. The document of Global Entry revocations found officers often issue $500 penalties, and that agricultural violations are among the most common ways to lose Trusted Traveler status.
If you're carrying fruit or other snacks, make sure to eat it on the plane. Even professional travelers can overlook this: One American Airlines crew member lost his status after failing to declare five passionfruit he had carried home from Colombia.