Black Mamas Matter Alliance is launching the first National Black Maternal Health Week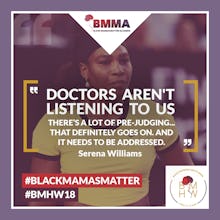 The Black Mamas Matter Alliance, an organization combating the poor black maternal health outcomes within the U.S. health care system, is hosting the first National Black Maternal Health Week, April 11 to April 17.
According to a 2017 CDC report, black women are three to four times more at risk of pregnancy-related death than white women. There should be more conversation about what factors are causing this glaring disparity on a national level, Elizabeth Dawes Gay, the steering committee chair of the Black Mamas Matter Alliance, said in an interview.
"The goal of the week is to deepen the conversation around black maternal health and amplify black women leaders who are working on the issue," Gay said.
During Black Maternal Health Week, organizers are hosting community events in California, Florida, Georgia, Maryland, Massachusetts, New Jersey, Ohio and Texas to raise awareness about the racial gaps in maternal health and to discuss solutions to closing them. Events include screenings of Death by Delivery, a documentary about black maternal mortality; panels featuring black women advocates; and educational workshops on yoga for birth and postpartum stages.
Organizers are also using webinars and social media to drive conversation using the hashtag #BMHW18. On Tuesday, there will be a prelaunch Twitter chat and on Wednesday, a Black Maternal Health Week Launch webinar. A full list of the scheduled webinars is available here.
"I think one of the messages that we're trying to push through the conversation overall is the role of racism and racial discrimination [on black maternal health] and the importance of acknowledging that and naming that," Gay told Mic.
Statistics show some of the causes of these discrepancies, include other pre-existing health factors that black women are disproportionately at risk for, such as obesity or high blood pressure. But Gay said the narrative can't stop there.
"[The] narrative falls short of explaining the systemic levels of oppression that prevents people from having the [good] health in the first place and a lot of that is race-based exclusion or barriers to economic success, to health care, education, to good neighborhoods and good housing," Gay said.
The conversation around black maternity reached national headlines after tennis superstar Serena Williams revealed in a January interview with Vogue, that she had a serious health scare — blood clots in her lungs — after giving birth to her daughter, Alexis. But when Williams, who has a history of blood clots, first requested a CT scan and blood thinner medicine, her medical practitioners did not listen to her.
Lynn Roberts, coeditor of Radical Reproductive Justice and professor at CUNY Graduate School of Public Health and Health Policy, spoke on the impact racism has on the treatment people receive, at the Schomburg Center for Research and Culture in March.
"There is a different level of care afforded to people of color, indigenous people, poor people and trans people," said Roberts, according to event coverage by Mic. "I think that is systemic. And that devaluing and that stigmatizing gets in the way of quality care."
When asked about what the Black Mamas Matter Alliance hopes to accomplish from carrying out this first National Black Maternal Health Week, Gay said reaching new people is the most important outcome.
"If even one more person just says they want to take up the cause, they want to become a doula, they want to become a midwife, they want to start an organization — to me that's a success."