Trump administration sends first national guard troops to US-Mexico border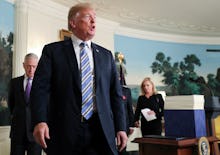 The Trump administration has deployed national guard troops to address "security vulnerabilities" along the United States-Mexico border, the Department of Homeland Security and the Department of Defense announced in a joint statement Friday night.
"Together, the Departments of Homeland Security and Defense are committed to using every lever of power to support the men and women of law enforcement defending our nation's sovereignty and protecting the American people," Defense Secretary James Mattis and Homeland Security Secretary Kirstjen Nielsen said in the statement. "We will continue to work with the governors to deploy the necessary resources until our nation's borders are secure."
As many as 4,000 troops could be deployed as part of President Donald Trump's border security plan, Mattis reportedly said in a memo Friday.
It is unclear how many members of the national guard will ultimately be sent, but Republican governors in both Texas and Arizona announced they are deploying hundreds of troops in the coming days.
Arizona will send 150 national guard troops to the U.S.-Mexico border next week, Gov. Doug Ducey announced on Twitter Friday.
Texas is sending 250 troops to its border with Mexico in the next 72 hours, a spokesperson for the state's national guard told Politico.
DHS announced the administration's plan to "support ongoing efforts to mitigate the crisis on our border" Wednesday, but did not initially give a timetable.
Both Ducey and Texas Gov. Greg Abbott each praised the plan in statements Wednesday.
"Arizona welcomes the deployment of National Guard to the border," Ducey said. "Washington has ignored this issue for too long and help is needed. For Arizona, it's all about public safety."
Abbott praised the move Wednesday, saying that the "action by the Trump Administration reinforces Texas' longstanding commitment to secure our southern border and uphold the Rule of Law."
"I welcome the support," he said.
Though states will have control over the troops, the federal government will foot the bill for the operations.
Former President George W. Bush stationed about 6,000 national guard troops at the U.S.-Mexico border from 2006 to 2008, and former President Barack Obama deployed the national guard to the border in 2010. Obama sent about 1,200 troops there largely to assist with surveillance, according to Politico.
Trump on Wednesday said in a memo to the Homeland Security and Defense departments that the "American way of life hinges on our ability as a nation to adequately and effectively enforce our laws and protect our borders." In a tweet, he also complained about America's "very weak" border laws and claimed that Democrats "want people to pour into our country unchecked."
"CRIME!" he tweeted. "We will be taking strong action today."
In addition to saying Thursday that he is hoping for 2,000 to 4,000 troops to be sent to the border, he also this week moved toward ending the U.S. "catch and release" policy, in which undocumented immigrants are released from detention while their cases move through the courts.
White House press secretary Sarah Huckabee Sanders described the policy as "dangerous" in a statement Thursday.
"The safety and security of the American people is the president's highest priority, and he will keep his promise to protect our country and to ensure that our laws are respected," Sanders said.