This week in Trump-Russia news: Trump's not a criminal target, but Mueller's not out of his hair yet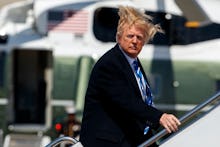 President Donald Trump this week got what initially appeared to be some rare good news out of the Russia investigation.
According to the Washington Post, special counsel Robert Mueller has informed Trump's legal team that while the president remains under investigation, he is not currently considered a criminal target of the probe.
That would seem to be a plus for Trump, who has spent more than a year now insisting that he is innocent and that the probe into his campaign and conduct as president is nothing but a "witch hunt."
But the Post scoop isn't exactly the win for Trump that it would seem to be on its face — particularly because the paper also reported that Mueller is preparing a report on possible obstruction of justice on the part of the president.
Here's what we learned about the Mueller probe this week — and what you need to know about the further deteriorating relationship between the United States and Russia.
Trump begins preparing for Mueller interview
As the Post's Aaron Blake explained Wednesday, the news that Trump is not considered a criminal target of the Mueller probe at this point can mean any number of things.
But one thing it does not mean is Trump has been cleared, as some on the right have suggested.
First off, even if Mueller does not see Trump as a criminal target right now, that could change.
Second, as Blake pointed out, it is possible that Mueller does not believe he has the authority to bring criminal charges against a sitting president — something that may not be legally possible. While that would of course be good news for Trump, that would mean what Mueller told his lawyers last month says nothing about what it is that investigators have found. Further, Trump could then still face political consequences, such as impeachment, for any wrongdoing that Mueller may find — even if he avoids legal ones.
The other revelation in the Post's report may be more significant.
According to the paper, Mueller informed Trump's attorneys that he has begun preparing a report on the president's conduct in office — including potential obstruction of justice, one of the two main threads of the special counsel's probe.
It's unclear exactly what the report would say — or if it would even be made available in some form to the American public. But depending on the special counsel's findings, it could present significant political, and possibly legal, problems for the president — or go a long way toward supporting his claim that "there was no Obstruction."
Trump has been relentlessly hostile toward his investigators, and has at times raised eyebrows with suspicious actions — including apparently attempting to fire Mueller last year.
Mueller seems to be focused on two specific episodes related to the obstruction question: the firings of Michael Flynn and James Comey, and the statement Trump drafted for his son aboard Air Force One to explain his shady 2016 Trump Tower meeting with a Russian lawyer who supposedly had dirt on Hillary Clinton.
The special counsel has reportedly informed Trump's lawyers that he would like to question the president about the two topics in an interview.
Though Trump has been unclear as to whether he'd testify before Mueller, and his lawyers are concerned about him doing so, he has begun the process of preparing for the potential interview, CNN reported Friday.
Van Der Zwaan sentenced following guilty plea
Meanwhile, Dutch lawyer Alex Van Der Zwaan became the first person charged by Mueller to be sentenced.
The former Rick Gates associate — who pleaded guilty in February to making false statements to the FBI — was sentenced Tuesday to 30 days in jail and fined $20,000.
Van Der Zwaan — the son-in-law of a Russian oligarch named in the salacious Steele dossier — misled authorities about his most recent contact with Gates; deleted and failed to produce emails Mueller's team had requested; and misrepresented his involvement in an international law firm's report on former Ukrainian Prime Minister Yulia Tymoshenko in 2012.
Gates, the former deputy chairman of the Trump campaign, cut a plea deal with Mueller in February and has been cooperating ever since.
He and former Trump campaign chairman Paul Manafort had been indicted in October 2017 on charges related to their work for Ukrainian politicians with ties to Russian President Vladimir Putin.
Both initially pleaded not guilty to the charges, but Gates in February pleaded guilty to a charge of making a false statement to investigators and a charge of conspiracy against the U.S.
Manafort has maintained his innocence, however, and sought to have the charges dismissed, arguing that Mueller had gone beyond the parameters of his authority.
Mueller hits back at Manafort
But Mueller seemingly put the matter to rest on Monday when he released an August 2017 memo from deputy attorney general Rod Rosenstein that specifically authorizes him to investigate Manafort.
Rosenstein has overseen the FBI's Russia investigation since Attorney General Jeff Sessions recused himself from matters related to Russia in early 2017.
According to the memo, Mueller had the green light to examine whether the former Trump campaign chairman "committed a crime or crimes by colluding with Russian government officials with respect to the Russian government's efforts to interfere with the 2016 election for president of the United States, in violation of United States law."
A U.S. district judge on Wednesday appeared to dismiss Manafort's argument against current charges from the special counsel, along with any others he may bring in the future.
U.S. sanctions Putin allies
The Trump administration on Friday announced a new round of sanctions against Russia — this time, against prominent Russian oligarchs and top Kremlin officials — to punish the Kremlin for its "malign activity around the globe."
"The Russian government operates for the disproportionate benefit of oligarchs and government elites," Treasury Secretary Steve Mnuchin said in a statement. "Russian oligarchs and elites who profit from this corrupt system will no longer be insulated from the consequences of their government's destabilizing activities."
Oleg Deripaska, an aluminum magnate with ties to Manafort, was among the seven Russian oligarchs named in Friday's sanctions.
According to Mnuchin, Russia's malicious activity includes its "continuing to occupy Crimea and instigate violence in eastern Ukraine, supplying the Assad regime with material and weaponry as they bomb their own civilians [and] attempting to subvert Western democracies."
The move came less than a month after the Treasury department sanctioned Russian entities and officials over the Kremlin's interference in the 2016 U.S. election.
Russia has denied meddling in the U.S. election.
Trump, who has at times suggested he accepts Russia's denials, has sought a warmer relationship with Russia and its president, Vladimir Putin.
But tensions have been spiking in recent weeks following the poisoning of former Russian double-agent Sergei Skripal and his daughter on March 4 in the United Kingdom.
The Trump administration expelled 60 Russian officials from the U.S. on March 26 in response to the attack.
Russia, which has denied it was behind the attack, responded days later by kicking 150 diplomats — including 60 Americans — out of the country and shuttering the U.S. consulate in St. Petersburg.
"I don't remember such [a] bad shape of our relations," Russian ambassador Anatoly Antonov told NBC News last month.