Trump scolds FBI, DOJ on Twitter over missed subpoena deadline: "BAD!"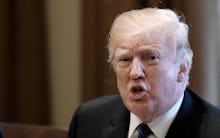 President Donald Trump lashed out at his Department of Justice and the FBI on Saturday, tweeting that federal law enforcement is "stalling" on Republicans' request to produce documents related to abuse of power allegations.
"What does the Department of Justice and FBI have to hide?" Trump tweeted Saturday afternoon. "Why aren't they giving the strongly requested documents (unredacted) to the HOUSE JUDICIARY COMMITTEE?"
"Not looking good!" he added.
Republicans on the committee subpoenaed the FBI and DOJ last month for documents related to their actions during the 2016 presidential election, including alleged abuses of the Foreign Intelligence Surveillance Act. The deadline to produce the documents was Thursday.
"This is unacceptable," Rep. Mark Meadows (R-N.C.) tweeted after the deadline passed. "It's time to stop the games. Turn over the documents to Congress and allow us to conduct oversight."
Federal law enforcement was accused of FISA warrant abuses in a misleading memo released by Rep. Devin Nunes (R-Calif.), the chairman of the House Intelligence Committee, in February. Trump and his allies latched onto the Nunes report, suggesting that it "totally vindicates" the president in the Russia investigation.
The House Judiciary Committee was also seeking documents related to the investigation into Hillary Clinton's use of a private email server.
Both the FBI and DOJ have said they are examining the documents requested.
"What's going on?" Trump tweeted Saturday. "BAD!"
This isn't the first time Trump has weighed in on the matter.
On Monday, Trump tweeted that the "Department of 'Justice' and the FBI are slow walking, or even not giving, the unredacted documents requested by Congress."
"An embarrassment to our country!" the president said.