Days before Zuckerberg goes to Congress, new questions still emerging about Cambridge Analytica data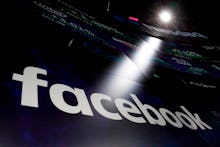 With two days to go before Facebook CEO Mark Zuckerberg testifies before Congress, new questions are still arising about the data Cambridge Analytica acquired from Facebook users — and how Congress can play a role in stopping similar events from occurring again.
U.K.-based data firm Cambridge Analytica has come under fire in recent weeks following initial reports that the firm, which had connections to the Trump campaign, used data from 50 million Facebook users on behalf of its clients. That number was later adjusted, as Facebook said Wednesday that the data firm may have acquired data from 87 million users.
According to Christopher Wylie, a former Cambridge Analytica employee who served as the whistleblower for the firm's misdeeds, that number may actually be even higher. In an interview Sunday on Meet the Press, Wylie told host Chuck Todd that it was possible that the number of Facebook users targeted by Cambridge Analytica is even more than Facebook believes.
"I think that it could be higher. Absolutely," Wylie said Sunday.
Wylie added Sunday that however much data was taken, it wasn't only used by a few people. The whistleblower said it's likely that "a lot of people" had access to the data or derivatives of it, and it could be stored in places throughout the world — including Russia.
"Part of the reason why I spoke was so this could be looked at, because I think there is a genuine risk that this data has been accessed by quite a few people and that it could be stored in various parts of the world, including Russia, given the fact that the professor who was managing the data harvesting process was going back and forth between the U.K. and to Russia," Wylie said Sunday.
Wylie added that while he couldn't definitively say whether the Trump campaign had used the Cambridge Analytica data as part of its election efforts, it's likely that the data was misused in some way.
"There is a substantial risk that this data was misused, and given what we know about the company and the lengths that they're willing to do for their clients, I think it is worth a serious investigation," Wylie said.
"I didn't work on the Trump campaign, so of course I can't say one way or the other whether Trump used it or not," he added. "But we do know a lot of things about this company that I think a reasonable person, knowing these things, would want to ask some pretty tough questions about what happened to that data."
The whistleblower noted Sunday that he was cooperating with American authorities, including Congress and the U.S. Department of Justice. One of the members of Congress investigating the scandal, Sen. John Kennedy (R-La.), said Sunday that the problem is bigger than just Cambridge Analytica, however — and Facebook needs to change as a result.
In an interview Sunday on CBS's Face the Nation, Kennedy said that he hoped Zuckerberg would be "forthcoming and frank" about the challenges Facebook faces with regards to both data protection and propagating "fake news." The Senator sits on the Senate Judiciary Committee, which Zuckerberg will appear before on Tuesday.
"Facebook knows more about its business, its algorithms, its methodology, than any of us in Congress do. I'm hoping that Mr. Zuckerberg will come to the table and say, 'Okay here are the problems, here are some suggested solutions, let's talk it through together,'" Kennedy said Sunday.
"I do not want to hurt Facebook," Kennedy added. "It's done a lot of good, but how do we preserve the good things about Facebook while mitigating the obvious detrimental effects of it? ... It is a minefield in many respects."
The social network has ramped up its efforts in the wake of the Cambridge Analytica scandal and revelations about how the social network was used by the Russians to spread "fake news" during the 2016 campaign. Facebook has released new privacy tools and terms of service, and now requires verified identities for political ads. The social network has also said it will roll out privacy changes that comply with the European Union's impending General Data Protection Regulation, which takes effect May 25, to users worldwide.
Yet Kennedy said Sunday that these changes may not be enough — and it "may be the case" that Congress has to take action to prevent future data breaches. The senator noted that while he doesn't want to "regulate Facebook half to death," when it comes to Facebook's next steps, "we can do it the easy way or the hard way."
"I don't want to hurt Facebook. I don't want to regulate them half to death," Kennedy said. "But we have a problem. Our promised digital utopia has minefields in it."
"My biggest worry in all of this — and I have many, many questions, Mr. Zuckerberg — but my biggest worry with all this is that the privacy issue and what I call ... the propagandist issue are both too big for Facebook to fix, and that's the frightening part," Kennedy added.