Syrian chemical attack complicates Trump's plans for troop withdrawal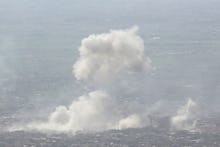 Welcome to Mic's daily read on Donald Trump's America. Want to receive this as a daily email in your inbox? Subscribe here.
Good morning from Emily Singer at Mic.
Here's what's happening in Trump's America:
• Trump is holding a Cabinet meeting Monday morning amid a number of staff departures and the scandal surrounding Environmental Protection Agency administrator Scott Pruitt.
About the weekend: Staff drama
The chaos publicly emanating from staff drama in the Trump administration appears to be even worse behind the scenes.
White House chief of staff John Kelly has reportedly lost control — and subsequently his temper — over the staff at the West Wing, according to the Washington Post. This comes after seniors officials said earlier this year that it was unclear how much longer Kelly would stay in his job.
After Trump fired Veterans Affairs Secretary David Shulkin, Kelly reportedly had to be given "pep talks" by Defense Secretary Jim Mattis and Homeland Security Secretary Kirstjen Nielsen.
"I'm out of here, guys," Kelly said, which some viewed as a resignation threat while others said they thought it was just Kelly deciding to leave work early.
While Kelly's future is in doubt, EPA chief Scott Pruitt's job looks more safe, after Trump publicly defended Pruitt amid an ethics scandal.
"While Security spending was somewhat more than his predecessor, Scott Pruitt has received death threats because of his bold actions at EPA," Trump tweeted on Saturday. "Record clean Air & Water while saving USA Billions of Dollars. Rent was about market rate, travel expenses OK. Scott is doing a great job!"
Today in Trump's America: Syria takes center stage
Syrian President Bashar Assad is once again accused of using chemical weapons against his own people.
Horrific images of dead Syrians, including children, emerged over the weekend from the rebel-held city of Douma, a suburb of Damascus.
Trump said last week he wants to pull U.S. troops from the Middle Eastern nation, saying the resources are better spent in the U.S.
"I want to get out," Trump said at Tuesday's press conference. "I want to bring our troops back home."
"I want to start rebuilding our nation," Trump added. "We will have, as of three months ago, $7 trillion in the Middle East over the last 17 years. We get nothing — nothing — out of it. Nothing."
The chemical weapons attack, however, complicates that plan. Lawmakers like Sen. John McCain (R-Ariz.) are encouraging Trump to respond to the attack.
"@POTUS's pledge to withdraw from #Syria has only emboldened Assad, backed by Russia & Iran, to commit more war crimes in #Douma," McCain tweeted Sunday night. "@POTUS responded after last year's chemical attack. He should do so again & make Assad pay a price for his brutality."
Trump, for his part, called out Assad, Iran and Russian President Vladimir Putin — who backs Assad's regime — by name in a series of tweets Sunday morning, saying there would be a "big price to pay" for the attack.
"Many dead, including women and children, in mindless CHEMICAL attack in Syria," Trump tweeted. "Area of atrocity is in lockdown and encircled by Syrian Army, making it completely inaccessible to outside world. President Putin, Russia and Iran are responsible for backing Animal Assad."
"Big price to pay," Trump added. "Open area immediately for medical help and verification. Another humanitarian disaster for no reason whatsoever. SICK!"
For now, it's unclear what Trump's full response will be.
Almost exactly a year ago, when Assad carried out a chemical attack on his own people, the U.S. responded by launching missiles at an airbase controlled by Assad.
An airbase in Syria was struck by missiles early Monday morning, for which Syria blamed Israel.
Trump will meet with his own military leaders on Monday night, ostensibly to discuss a plan.
Capitol Hill happenings: Congress returns
The Senate returns to Washington on Monday afternoon after a two-week recess. The House isn't back until Tuesday.
Upon its return, the Senate will be consumed with confirmation battles for three key Cabinet posts: secretary of state, CIA director and secretary of veterans affairs.
And the House will consume itself with a symbolic vote on a balanced-budget amendment — a political ploy given that the Republican-controlled House passed a tax reform bill last year that blows a $1.5 trillion hole in the deficit. Actually balancing the budget would require either raising revenues through new taxes or cutting entitlements such as Social Security and Medicare — neither of which are likely.
And the rest…
Resignation: Rep. Blake Farenthold (R-Texas) resigned from Congress on Friday. Farenthold was accused of sexual harassment by a former staffer, and settled the case with $84,000 in taxpayer dollars. Farenthold said he would pay that money back, but still hasn't made good on that promise.
Trade war: Trump continues to ratchet up a trade war with China. China, for its part, suggested it won't negotiate if Trump keeps up his threats. Chinese state media went as far as calling Trump's trade rhetoric the product of an "anxiety disorder," according to Reuters.
Staff changes: New national security adviser John Bolton starts Monday, as H.R. McMaster officially left the White House on Friday. And Michael Anton, a spokesman at the National Security Council, plans to leave the NSC to give Bolton a clean slate.