The wrong bank account could cost you $4K: Here's how to find a better one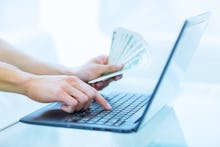 Bank accounts keep getting better and better. Well, some of them at least: Bolstered in part by the Federal Reserve's plan to steadily raise interest rates, consumers at online banks, in particular, are starting to see more generous returns on their savings accounts. As that happens, the difference between bank accounts that pay and those that don't is getting bigger.
"If you look at online banks, it's pretty easy for consumers to find 1.5% [APR] or, in some cases, even higher," said Kimberly Palmer, a banking analyst at NerdWallet. "In some cases at traditional banks, you're still seeing interest rates as low as .1%, so people can really lose out on the higher savings."
While we're a long way away from the days when savers could earn 4% annually or simply by not spending their money, the potential benefits for savers are still substantial.
A customer who saves $5,000 with a high interest account through an online bank can make about $800 in interest over 10 years, according to NerdWallet's latest analysis. But a customer who saves the same amount through the average savings account at a big bank like Citibank of Bank of America is losing out on more than $800 within 10 years.
The gap is even higher when you look at other savings vehicles like a certificate of deposit — essentially savings accounts where you agree to avoid touching your money for a given period of time in exchange for a better rate. A person who saves $15,000 in a CD for 15 years, for example, loses out on more than $4,000 compared to what they would have earned in the average low-interest savings account, NerdWallet found.
"Traditional banks don't really feel the consumer pressure that online banks are seeing," Palmer said. "The online banks are more aggressively seeking consumers, and so some banks are feeling that consumer pressure more than others are."
So, what's a good interest rate?
While many of the largest traditional banks still offer pretty low annual percentage rates on most of their savings accounts, there are exceptions.
Best paying CDs: The highest paying CDs are currently paying between 2.5% and 2.75% APR over a five-year period, according to NerdWallet. You may also be able to find a much better rate through your local credit union, or through a credit union whose services you can access online.
The best paying savings accounts: CIT Bank's money market savings account pays an APR of 1.75% if you maintain a minimum balance of $100 or more, according to NerdWallet. Marcus, the consumer banking operation from Goldman Sachs, pays 1.6%.
A high APR on your savings account is not the only thing you should be looking for in a bank, NerdWallet's Palmer noted. If you tend to keep a relatively low balance, or frequently find yourself using out-of-network ATMs then you could easily find your superior earnings eaten up by fees, which are also on the rise.
Best banks for low fees: If your main concern is overdrafts, it may make more sense to look for a bank like Chime or Simple, which simply decline debit charges in lieu of applying over-draft fees. On the flip side, if you're constantly shelling out for out-of-network ATMs, then you may want to take a closer look at accounts like Bank of Internet, Aspiration, and Charles Schwab which reimburse ATM-fees. You may also be able to cut down on fees by requesting an overdraft line of credit or a fee waiver.
How to break up with your bank
Switching banks can be a headache. To start, you'll want to figure out which sorts of products you actually need (here's a good primer), and requesting your new bank's "switch kit," which generally requires assembling your personal information and the cash that will be going into your first deposit.
It may also make sense to move your money over gradually from one bank to the next, so you don't have to worry about missing any payments on forgotten bills or recurring expenses you set up with your old account. For everything you need to know to break up with your bank, you can check out our guide here.
Sign up for the Payoff — your weekly crash course on how to live your best financial life.